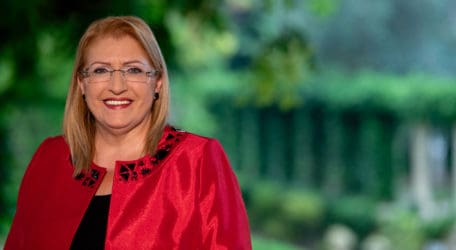 Marie-Louise Coleiro Preca, former President and Malta Foundation for the Wellbeing of Society chair, has been chosen to head Eurochild, a prestigious children's rights advocacy network with 176 members in 34 countries.
The Eurochild General Assembly in Brussels today elected Ms Coleiro Preca as its president for being instrumental in giving children a voice and for her tireless dedication to the well-being of society's most vulnerable.
Eurochild secretary general Jana Hainsworth said: "We are honoured and delighted to have leadership of such a committed champion of children's rights. Her Excellency's vision of children's rights and insight into the political world will open many doors for Eurochild and enable the network to sail smoothly amid the upcoming changes in the European institutions and beyond."
Eurochild is an advocacy network of organisations working with and for children throughout Europe, striving for a society that respects the rights of children. Bringing expertise from its membership, the network influences policies, builds internal capacities, facilitates mutual learning and exchanges practice and research to support the children's rights sector.
Ahead of the next month's European Elections, Eurochild is campaigning for a European Parliament that stands for children with the Vote for Children campaign.
Ms Coleiro Preca was honoured to take on the role and said that during her time as both Family and Social Solidarity Minister and as President of Malta, child participation was always at the centre of her endeavours.
"I would like to use my time as president of this prestigious organisation to ensure that child participation really takes off on a pan-European level, bringing greater attention to the voice of children. I believe Europe can play a leading role globally here too," she said.
"I'd like to see Eurochild continuing to strengthen its ties to various international organisations and deepen its cooperation with the Council of Europe."
In 2014, Ms Coleiro Preca had set up the President's Foundation for the Wellbeing of Society — now the Malta Foundation for the Wellbeing of Society — where an intensified focus on child participation also led to the establishment of the Children's Hub, the President's Secret Garden and the Children's Council and the Young Person's Council.
"I am delighted to see Eurochild adopting a similar model… Working with member states of the European Union and of the Council of Europe, together with their respective parliamentary delegations, Eurochild can bring children's rights into the core of parliaments across the European region."