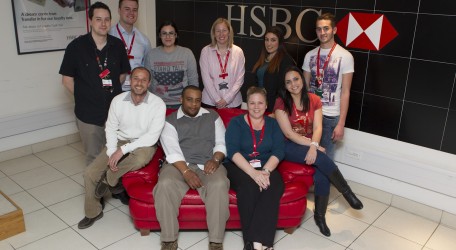 HSBC UK Contact Centre Malta has rewarded its employees for outstanding individual and team achievements throughout 2013.
The Awards, organised in 10 categories to reward diverse employee contributions, were this year presented as follows: 'Employee of the Year Award' – Svetlana Galea; 'Leader of the Year Award' – Kim Galea; 'Best customer experience Award' – Tim Womack; 'Act of nobility Award' – Anna Stivala; 'Amazing commitment of the year Award' – James Ryder; 'Best commitment of the year Award' – Julie Adshead-Sanders;  'Engagement Supporter Award' – Andrew Micallef; 'Idea of the year Award' – Mark Debono; and 'New Starter of the Year Award' – Christy Parkes. The 'Team of the Year Award' went to Team Yana.
Site Head of UK Contact Centre Malta Linsey Jones congratulated all the Centre's employees for the great team work and success achieved throughout 2013. "These annual awards are an important celebration of the achievements, dedication, and commitment of our people who go the extra mile and provide our customers with a truly enhanced customer experience."
"HSBC UK Contact Centre Malta invests a lot in its employees' training and development. This is essential in ensuring that our people are happy at work and that they grow and succeed in their careers. The great work atmosphere at the centre and the outstanding achievements of our teams are good testaments to this," Ms Jones said.