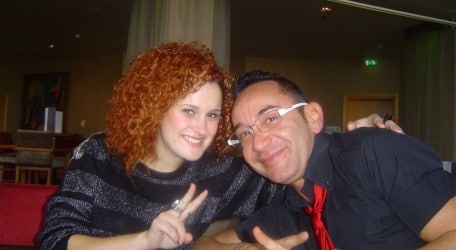 "My seven year plan is to get a Ph.D and use it in the field of media" – Ray

"If everyone is going to be scared, nothing will change" – Larissa
She is a vivacious 20-something with a shock of vibrant red curls named Larissa Bonaci and he… well he is the inimitable Ray Calleja, whom I consider one of the best comedians and impersonators on the island.
The unlikely pair of Larissa and Ray has resulted in one of the best on-screen duos I have seen in a long time. They have that elusive thing called chemistry and when they get together for their new satirical programme Illostra, the sparks just fly.
We are having lunch at KuDeTa, the restaurant with a breathtaking view of BallutaBay– one of those views which remind you why Malta is such a great place to live.
You can sit outside on the terrace but today we have chosen to sit on the comfortable sofas inside, where the decorations remind us that despite the sunny weather, Christmas is almost here.  This is a perfect place for a quick lunch and the location means you are quite central. The menu is varied and after some deliberation and recommendations from our waiter, we finally decide.
Larissa says she first met Ray during Sfida, when she was just 16 and he was a judge "and he was mean to me" she says, bursting into her infectious laugh. He does not remember the episode.
I remember Larissa well, not because of her hair but because when she lost, she made an impassioned speech telling viewers that she did not deserve to be eliminated, and that if the competition was meant to choose the best all-rounder, she should have won. To most Maltese people such supreme self-confidence is interpreted as ksuhat (conceit), and Larissa agrees. "Even my parents thought it was a bit much! But I think if you are going to be in the performing arts, you have to believe in yourself. Plus I was so young I honestly didn't care what people thought of me. It's true that I've had friends who tell me, 'you think too much of yourself', but guess what? If I don't have self-confidence, how am I going to fight and get to where I want to get?"
She did get somewhere very quickly when she went on a part scholarship to study in Los Angeles at the American Academy of Dramatic Arts. Funnily enough, it was there that her sense of self was dented somewhat and she admits to losing herself a bit, as she realised how babied she had been in Malta. "It's a big world out there," Ray points out succinctly as he listens to us talk.
 "If I don't have self-confidence, how am I going to fight and get to where I want to get?" – Larissa
He and Larissa could not be more different. As a toddler Larissa was already clamouring for attention, posing in front of her mother's video camera. She doesn't know where she gets it from, until she remembers that her mother is "very dramatic".  Ray, on the other hand, was excruciatingly shy as a child and he insists that deep down, he still is.
On her return to Malta, Larissa started teaching drama but was still yearning to go back to the States on a talent visa. Despite not really knowing him, she emailed Ray asking for a letter of recommendation. More than once.
"She was very insistent," he recalls with a smile.
"I kept telling him, 'you have to say how good I am.' So finally he told me, 'let me at least come watch you in something'. By that time I had a main role in the TV drama La Farfalla and as luck would have it, Ray and I even acted together in Are you being served?"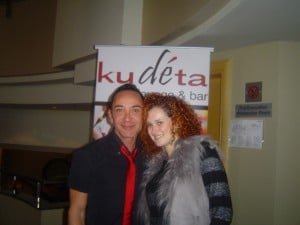 When I ask Ray what he thinks of this 24-year-old bundle of energy, he says that in her, he sees a part of himself. "However, she has been subjected to more opportunities than I ever had because of the timeframe. We had to create our own opportunities and the circle of people in drama and TV was so closely knit that it was very hard to break into it. My lucky break was that at school I had people like Karmenu Aquilina, Mario Azzopardi and Vanni Pule, as my teachers."
Since then, Ray has never looked back – his theatrical and television CV is so long that it would be impossible to mention everything here. His host of unforgettable comic characters such as the uncouth Frankie Quattromani, the lisping Dun Djon and the larger-than-life Josette will forever be etched in the annals of what constitutes Malta's pop culture.
In fact, the last time I interviewed him was over six years ago, for the series Let's do Lunch, when he was dressed in character as Frankie, and we had lunch at "his place".  I remember laughing at his outrageous comments throughout the whole interview.
Since then, Ray has taken what seems like a break from comedy. He diplomatically explains that the reason was that the contracts for his comedy TV shows had come to their natural end, but when pressed he acknowledges that the censorship issues had become too exhausting.
"It wasn't just on PBS, even on One TV I had problems. Anytime you want to use satire as a tool to highlight what's happening, the people in power who feel threatened don't like it."
As we discuss what constitutes a Maltese sense of humour, Ray comes up with his own explanation, "we have been through various dilemmas when it comes to humour in this country. Take the time of Johnny Navarro, when he used a lot of double entendres and people loved it. Then something happened, we started labelling things as 'hamalli' (low class) or 'ta' certu klassi' (high class).  Why? I think it was the influence of the British with their humour and emphasis on social class. But even they were going through major changes. Are you being served? was the first ever comedy on TV which portrayed a gay person, so they were challenging the status quo. But here when we started challenging something it got chopped down so it couldn't develop. We are more influenced by dry British humour or by Italian comedy which is more slapstick. Culturally, our humour is a whole mishmash and progress has been stopped. Why did they stop Zoo on PBS just because they pushed the envelope? Once again, you are holding back the progress. That is what tired me with my shows. It took me a two year battle to do the character of the priest but I was auto-censoring myself all the time. And my prostitute character was shut down. They would tell me things like, 'don't stick your tongue out so much'. To react to the censorship, I dressed that character in decent clothes, went to Valletta and made a petition in front of the courts, which we filmed and then I put that in the show. That way they couldn't tell me, 'don't do the prostitute'."
Ray points out that even the character of the roughneck Frankie created a division. "There were those who appreciated what I was doing with the character and what the real message was, because I was not doing comedy just for the sake of comedy. Others thought I was glorifying the hamallu culture. However, we have to be careful with the definition of hamallu."
The three of us toss a few definitions back and forth for a while until Ray comes up with his: "someone who is ignorant, knows it and yet believes that he is on top of the world. It is an attitude of arrogance. I've seen high class people being hamalli and so-called low class people being noble. That is what I'm trying to highlight – that our society is made up of very different people and yet somehow they all have their good and bad points, and I'm taking the piss out of everyone."
He spent the last three years presenting an afternoon magazine programme called 12:05 produced by Deemedia in which he gave daytime viewers a chance to listen to intelligent discussions on current topics.
But even this harmless programme got him into trouble. While discussing domestic violence on the eve of the referendum (even though the word 'divorce' was never mentioned) the programme was taken off the air. "I went ballistic," he recalls. "I spent a weekend talking to lawyers and initially I wanted to resign from the show and from PBS, but eventually I calmed down and understood how it could have been misinterpreted. But these are the instances where I feel we get overly sensitive in this country."
"I went ballistic," he recalls. "I spent a weekend talking to lawyers and initially I wanted to resign from the show and from PBS…" – Ray
Larissa points out that other countries don't have a day of silence and she cannot understand how anyone's point of view can be changed at that point in a campaign. We cannot help but agree with her especially now that the Internet has made the day of silence obsolete.
The Monday after the referendum, Ray made a statement on air explaining what had happened. By then the producers had issued an apology for allowing the domestic violence topic, however Ray did not agree with this, and said so. "My obligations and loyalty are with the viewers whatever the consequences may be, and this is what I said on air."
Despite ending his stint as a daytime presenter with such a bang, the hiatus from comedy had done Ray a world of good. "I was very tired from the hours of filming and make-up I had to put into Bomba; they were atrocious." His return to theatre with Are you being served was a positive experience as well as he recalled fond memories of watching the programme at his grandmother's house.
As a self-employed producer/presenter since 1998, Ray usually creates programmes with a specific TV station in mind and pitches it to them accordingly.
But with Illostra, Ray has been relieved from the commitment of producing: he was brought on board by the producers and they developed the idea together. Larissa was suggested to them, she auditioned with Ray and they clicked immediately. In the meantime they have ended up as fellow students in a bizarre coincidence. "My going to University was a decision which has been coming for the last ten years," Ray says. "I went through some tough moments personally and decided it was finally time to address them and now I'm loving every minute of it." This October Ray became a student of anthropology and psychology only to find that Larissa was also reading for a psychology degree.
In Larissa's case, although she had been teaching drama, over the summer she suddenly had a change of heart and quit her fulltime job. Her very patient parents told her she either had to work or study, and so she went back to studying, while working part-time.
When it came to her TV persona for Illostra, Larissa was asked to be a bit more ditzy than her usual self and she went for it. A lot of the script and punch lines are improvised and developed by the two of them. Of course, there are the inevitable comparisons with Italian satirical shows and Ray concedes that it's a cross between Striscia la notizia and Le Iene. They have an intrepid reporter by the name of Andrew who is the one going round exposing what's not working in Malta and taking politicians to task for it.
"Some of them go along with it, others just walk past and ignore the camera completely," Ray laughs. "But this programme is not meant to simply criticise but to bring about some much-needed changes."
Larissa agrees: "Instead of just talking about it we're trying to do something about it. For example, following a complaint, we asked viewers to join us at Marsa to clean up and get down and dirty but nobody showed up. We want society to show interest and not just complain. I was very disappointed."
Now that he is older and wiser, Ray is more realistic than the idealistic Larissa and shrugs, "I expected it."
So far even though both parties are criticised, they have not had any pressure to tone it down and they hope it will become even more challenging especially as the election campaign starts in full swing. The best part of the programme is that many complaints come from the public who enjoy the fact that their pet hates are being followed up.
"However, I still think it can be even more challenging and people have to be willing to speak up more as well. They have to get used to the idea that they have this powerful tool."
So are people still afraid to speak up and show their face? Aren't we free to say what we like these days?
Ray answers sarcastically, "yeah right."  He says that people who make a complaint often refuse to be filmed because, using the old adage,  "Malta is small and everyone knows who you are."
I press on this point because it interests me…is this fear of being 'paid back'  justified or is it simply a leftover perception from days gone by when you could not criticise authority without retaliation?
"At the end of the day you need some courage because yes, of course, every action has some consequence," answers Ray. "Yes vindictive acts do take place, but if you believe that you're doing the right thing then nothing can make you fear it because you're fighting for justice. We're too used to being complacent."
"If everyone is going to be scared, nothing will change", adds Larissa with the enviable optimism of youth.  "I honestly believe that this programme is just the tip of the iceberg, showing that yes, we can say certain things, it's OK to push the envelope. Someone told me that I'm very lucky to be doing such a programme at such a young age, and it's true. I'm improving the way I think and it's making me more aware."
As for Ray, after years of portraying characters as a mirror of Maltese society, this programme has taken his love of satire to the next level.
"It's a tool which can increase social consciousness and responsibility for us as a nation. We always say, 'why should I speak up first, if nobody else is going to?' but somebody needs to start. We have shifted complacency – first it was the Queen, mhemmx ir-regina thallas? (the Queen can pay), then it was what you can get out of the government, and now it's defused into the local councils. What pisses me off is when we accept that something is not happening. It's like having a job, knowing you are being discriminated against, and shutting up either because you feel threatened that you are going to be chucked out and lose your livelihood, or even worse, having the feeling that you don't have a right to speak up! Maybe you don't have the knowledge or you can't find the exact words to express yourself – so people end up thinking that they are not human enough to feel what they are feeling. I feel that is the biggest problem in our society, that people do not think they are capable enough to speak their minds.  Look at our vox pops, ma nafx hi, jien naf! (I don't know, what do I know?)."
For her next project, Larissa will be performing the main role in the upcoming Alice in Wonderland, and looks every inch the part. Ray meanwhile looks serene and happy with himself. Having embarked on a fitness regime a few years back, he is quietly pleased with being in the best shape of his life.
"My seven year plan is to get a Ph.D and use it in the field of media" he tells me with the determination of someone who has finally realised what they want out of life. "It takes ten years to become an expert at what you do, we were told in our psychology course," he adds with a smile.
Larissa still wishes to go abroad again, and give her dreams another chance. "I gained so much there, I became independent and learned to appreciate what my parents have done for me, but I have also learned a lot since I've been back in Malta."
When I ask whether they are happy living on 'the Rock', they both say yes without hesitation.
"I love it here, I think we have a very good life," says Ray.
And as I look over at that view once again, I could not help but agree.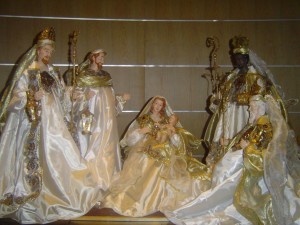 WHAT WE HAD FOR LUNCH
Smoothies made of bananas, apples,
raspberries and cranberry juice.
Focaccia Mediterranea
Fresh pasta porcini ravioli with truffle
topped with a special Le Meridien sauce.
Fresh ravioli stuffed with ricotta and spinach