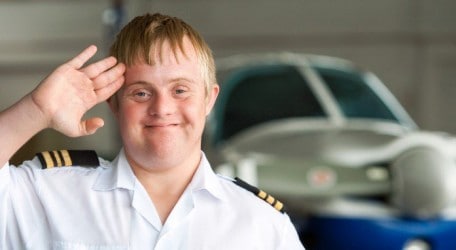 marks the 5th anniversary of World Down Syndrome Day celebrated worldwide. Each year, the voice of people with Down syndrome, and those who live and work with them, grows louder and louder.
World Down Syndrome Day was first observed in 2006 and takes place on 21st March every year. This date (21/3) represents the 3 copies of chromosome 21, which identifies persons with Down syndrome. Global awareness has been officially established since 2012 by the United Nations. Quoting the Secretary-General Ban Ki-moon on 21st March 2012 "On this day, let us reaffirm that persons with Down syndrome are entitled to the full and effective enjoyment of all human rights and fundamental freedoms. Let us each do our part to enable children and persons with Down syndrome to participate fully in the development and life of the societies on an equal basis with others. Let us build an inclusive society for all"
This year the global voice of people with Down Syndrome and those who care for them is: MY VOICE MY COMMUNITY because the social reality is that people with DS are part of our community.  Persons with Down Syndrome are learning, achieving and contributing to the community just like any other citizen. It is for this reason that allowing them a voice is no longer a privilege but a right in itself.
The aims of World Down Syndrome Day are to promote awareness and understanding, seek universal support, and to achieve dignity, equal rights and a better life for people with Down syndrome.
Down Syndrome Association Malta was founded in 1981, striving for persons with Down syndrome to achieve their full potential.
Down Syndrome Association Malta this year organized a series of activities to create more awareness.
The WORLD DOWN SYNDROME WEEK 2017 was launched on 11 March, at the Verdala Palace under the distinguished patronage of Her Excellency Marie-Louise Coleiro Preca, president of Malta.
This week, members of the Down Syndrome Association Malta were guests on TVM discussion programme SKJETTI and yesterday Down syndrome awareness was the main topic of the TVM programme Xarabank.
This morning, the annual Awareness Walk was held in Sliema. Parents, relatives, friends and the general public are invited to participate in this walk along the Sliema front starting at the Torri next to the swings, all the way to Bisazza street.
On Tuesday 21st March (World Down Syndrome Day) at 6:30 pm we will be concluding this week with a mass being celebrated at Dar tal-Providenza Chapel in Siggiewi.