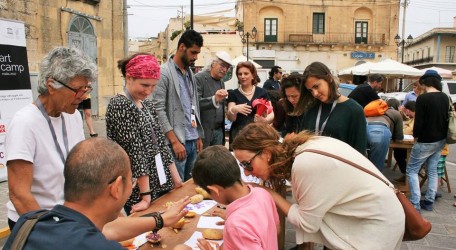 A UNESCO-organised art camp for 27 internationally established artists is being held in Gozo to further reinforce the role of culture as an essential tool in sustainable education through art and promotion of peace. Forming part of the Cultural Programme of Malta's Presidency of the Council of the European Union, the event was launched by the Chairman of the Maltese National Commission for UNESCO, Prof. Henry Frendo, and the Permanent Delegate to UNESCO, H.E. Mgr. Joe Vella Gauci, at Tal-Fanal Holiday Village.
Organised by the Maltese National Commission for UNESCO and UNESCO's Associated Schools National Coordinator, in collaboration with the Andorran National Commission for UNESCO, the second edition of Art Camp Malta will run till 20th May 2017. Visitors are welcome to meet the artists and view the works of art as they are being created.
Executive Secretary of the Maltese National Commission for UNESCO, Mr Philip Cassar, said: "The aim of this project goes beyond the creation of a showcase of original and truly creative works of art, as it reinforces the principal values embraced by UNESCO. These are the sustainability of peace and the protection and promotion of the diversity of cultural expression."
Launched in 2008, the project is currently framed in the International Decade for the Rapprochement of Cultures (2013-2022), and promoted by UNESCO. The intentions of this project are in line with the goals of a presidency that seeks to reunite and bring together people from all around the European Union and beyond. The Art Camp is a cross-cultural meeting where artistic expression is the common universal language, and a place where art is the result of artists living with other artists and sharing their cultures within a wide range of activities and experiences.
As Director-General of UNESCO, Madame Irina Bokova, stated: "Creativity as it is presented by Art Camp is very important because it helps us to think differently. It gives us a fresh perspective on how the world works. This is why we seek to place creativity at the heart of more sustainable approaches to development."
The first edition of Art Camp which was held in Maltese Islands in October 2015 was a successful event and saw the participation of over 15 artists from as many countries. UNESCO's Art Camp 2017 in Gozo, will once again be patronised by UNESCO's Artist Ambassador for Peace and Cultural Diplomacy Mme. Hedva Ser.
For further details, one can visit the Maltese National Commission for UNESCO website www.unescomalta.org or email  [email protected]