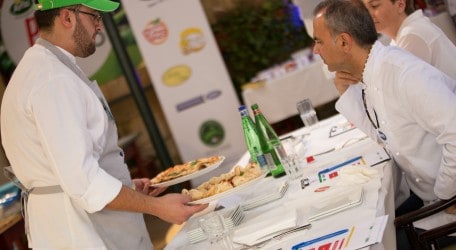 Local and International Chefs will be competing to win a professional course at the Accademia Pizzaioli in Italy
The third edition of the Arla Malta Pizza Challenge is back again this year with a twist. The Challenge will see local and international Pizzaioli compete head to head at the Valletta Waterfront, on Friday 26th May and Saturday 27th May, where passers-by can see top Pizzaioli battling it out in a culinary showdown of technique, skill, style and creativity.
Participants will be given 20 minutes to impress the team of judges with a selection of three pizzas. This year, the challenge has gone a step further and will now include three categories – the Pizza Classica category, the Pizza Creativa category and the Black Box Pizza category.
The Pizza Classica category will capture the classic pizza's old school technique but at the same time, participants are expected to give it a modern interpretation. This category will include a mix of six variations including the classic Pizza Margerita, Capriciosa, Diavola, Prociutto e Funghi, Frutti de Mare and Quattro Formaggi.
On the other hand the Pizza Creativa will bring the pizzaioli together in a fun and creative way. In this category, each participant will showcase their creativity, innovation and intuition in their personal creation.
The Black Box pizza category is a new intriguing category for this year. Each participant will select a random box which will contain a list of ingredients that they would then use to make their pizza. This category will also showcase the ability of the pizzaiolo to work with the provided ingredients and achieve the best tasting pizza out of all the participants.
The panel of international judges will assess and score each step in the pizza-making process, including the preparation, baking, taste, visual presentation, creativity and even the overall hygiene of the contestants' workstations.
This year, the Arla Malta Pizza challenge will also include another first for Malta. The Dough Kneading Challenge will see participants create dough, using just their hands, technique and basic ingredients, with the dough created in this category given out to charity.
The competition, which is sponsored by Arla, a mozzarella cheese that originates in Italy and made from buffalo milk and eaten as fresh cheese, includes a number of prizes, with the winner of the overall category will get an all-expenses-paid professional pizza course at the Accademia Pizzaioli in Italy.
Further information can be obtained by calling 2385 0700, or by visiting www.applecorefoods.com or the Event Facebook page 'Arla Malta Pizza Challenge 2017'.