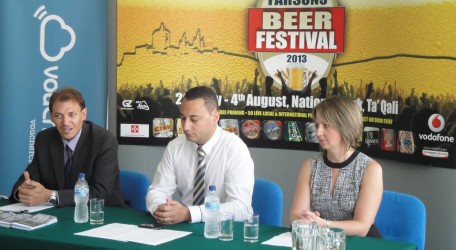 Pictured above: Clint Galea, Marketing & Communications Manager – Arriva Malta, Shawn Caruana, Business Manager – Simonds Farsons Cisk plc and Daniela Bagnaschi, Consumer Prepaid Marketing Manager – Vodafone
Launched during a press conference in the new Brewhouse at the Farsons Brewery in Mriehel, the 33rd edition of The Farsons Beer Festival promises another ten days of the best in local and international award-winning beers and Malta's best line-up of musicians and artists. Organised at Ta' Qali Park, the Festival runs from Friday, 26th July to Sunday 4th August 2013, and opens at 8pm every night. Entrance is free of charge with free parking available in the vast parking area outside the Park.
The Farsons Beer Festival offers the complete range of Malta's local beers, including the Cisk range: Cisk Lager, Cisk Export Premium Lager, Cisk Chill Lemon Flavoured Lager, Cisk Excel Low-Carbohydrate Lager, and classic brews such as Hopleaf Pale Ale and Blue Label Ale. International beer brands such as Carlsberg, Budweiser, Guinness, Kilkenny Irish Cream, John Smith's Extra Smooth Ale, Beck's, Newcastle Brown Ale and Corona Extra are also available, including a selection of UK speciality beers and cider brands Strongbow, Woodpecker and Bulmer's Original Cider.
"With over thirteen bars, sixty draught installations and fourteen local and international award-winning beer brands, the Farsons Beer Festival, Malta's largest outdoor event of the year, is truly a celebration of the best beers on the island. The Festival is one of the most eagerly awaited events of the summer and this year's edition will not disappoint," said Mr Shawn Caruana, Business Manager at Simonds Farsons Cisk plc and Festival Organiser.
Beer is the star of the Festival, however this hugely popular event has always been an important showcase for top Maltese artists and bands since it was first organised in 1981. A selection of talented local and international musicians will perform on two stages every night within the unique setting of Malta's National Park.
"Together with top local artists such as Ira Losco, Tribali, Airport Impressions, Fakawi, Freddie Portelli, The Rifffs, Xtruppaw, and Gianluca Bezzina, we have added international acts. But the Festival is also considered to be a starting platform for many up-and-coming artists and with this in mind, we have also given space to several artists and musicians that are still starting out," he continued.
"Enjoyed by people of all ages, the open-air Festival is a safe and great family outing or night out with friends and with free entrance and parking provided, it is the summer event not to be missed."
This year the Kids Area will be animated by a special half hour daily show for children in the Greek Theatre.
PUBLIC TRANSPORT ARRANGEMENTS
An agreement has been reached with Arriva for the extension of public transport to and from Ta' Qali. During the ten days of the festival, Ta' Qali will be served by route 53 from Valletta from 19:30, and all Arriva services will be extended with the last bus leaving Ta' Qali at 24:00, charged at the €2.50 night fare. The Arriva customer care centre may be contacted on 2122 2000 for additional assistance.
"As part of our ongoing commitment to promote responsible drinking, we encourage visitors to the festival to make use of this special service being provided by Arriva," concluded Mr Caruana.
"This year Vodafone promises great initiatives and great fun for all those attending the Farsons Beer Festival. Vodafone's stand will be a hub of activity and entertainment as Vodafone's team is planning to launch a number of initiatives during the Farsons Beer Festival," said Ms Daniela Bagnaschi, Consumer Prepaid Marketing Manager.
"The Farsons Beer Festival has been a showcase for our summer activities for a number of years and it is another opportunity for us to meet our customers and get to know them better. This year, we will also be having well known comedians Gorg & Pawlu who will be entertaining our customers together with singer Gianluca Bezzina who will performing his Eurovision Song entry 'Tomorrow' on our stand. We look forward to meet our current customers and prospective customers during this unique summer event."
The official Festival Mug, which has become a collectible item for most visitors of the Festival, will be available from most bars, whilst fifteen food stations will be offering a wide mix of food dishes.
The main sponsor of the Festival is Vodafone with other sponsors including Gasan Zammit Motors, Malta Tourism Authority and 89.7 Bay.
The official Festival app can be downloaded for iPhone and Android and is available at iTunes Store or Google Apps. For the latest news and information like the Festival page on Facebook: www.facebook.com/thefarsonsgreatbeerfestival.