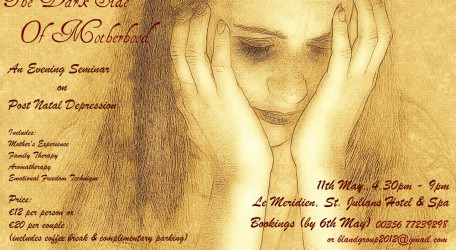 A seminar on the theme of post-natal depression entitled The Dark Side of Motherhood will take place on Friday 11 May at Le Meridien Hotel St.Julians, 4.30pm-9.15pm.
Ms.Helen Damato – The Commissioner for Children will be opening the seminar, while Maria Delicata (Co-founder Daniel Delicata Memorial Association) will be chairperson.
The seminar will be focusing on self help and empowerment and will include talks about family therapy, aromatherapy and emotional freedom technique. There will also be a mother's experience, a presentation by Louise Bugeja on The importance of Community Support and a presentation by Homestart (Malta).
For more information visit their Facebook page at www.facebook.com/Thedarksideofmotherhood
For those seeking support there is also a Facebook group "Support in Postnatal Depression (Malta)" where everybody is invited to share their experience, be it as a sufferer or as a friend, relative of someone who has passed through Post Natal Depression, or perhaps passing
through it right now. Professionals and others are also welcome. Indeed, it is open to all those who care.
As in all self-help groups, sharing experiences will greatly help in creating support and lead towards understanding and healing.