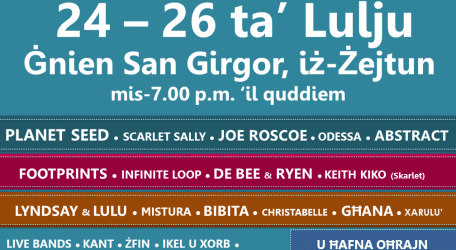 Fondazzjoni Nazareth will be organising the second edition of Żejtun FolkFest, a three day summer festival full of culture, music and entertainment.
This festival will take place between Thursday 24 to Saturday 26th July at St. Gregory's Gardens, Żejtun from 7 p.m. onwards, with line up featuring: Chris and Errol from Airport Impressions, Planet Seed, a medieval group Bibita, Lydnsay and LuLu, Joe Roscoe, Scarlet Sally, Footprints, De Bee, Infinite Loop, Mistura, Odessa Green, Christabelle and so much more local artists. Besides that there will be għana from renowned Maltese għannejja.
Fondazzjoni Nazareth, run on a voluntary basis, provides support and shelter for persons with special needs in three different homes at Żejtun. It was founded in 1995 by Fr Angelo Seychell, on the ARCHE model founded by Jean Vanier. It provides homes for those who have no family or cannot live with their family for some reason or other, and nowadays offers its services to 29 persons. it is currently building a new home to provide its services from which to offer its services.
Free entrance and free parking space.
For more information: www.facebook.com/zejtunfolkfest