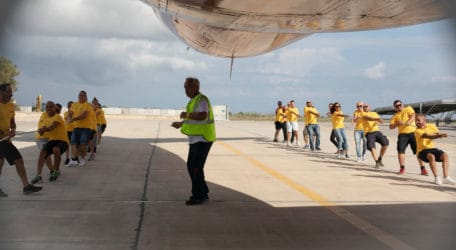 Some 150 people turned up on Friday, 21 September, a public holiday, to test their muscles and challenge themselves to the extreme, while raising money for a good cause, the Puttinu Cares Foundation, taking part in the fourth edition of the DHL Express Plane Pull Malta.
The groups varied in size from the single attempt by muscle man Tony Farrugia, to the largest group of 22 members of the Malta Police Force, who set the best time pulling a DHL Boeing 757 Freighter 20 metres at the Safi Aviation Park.
The 60-tonne aircraft, with an additional ballast of 2 tonnes, covered the distance in 20.47 seconds; while the attempt of Farrugia, sadly ended in disappointment.
The groups were given the opportunity to pull the aircraft twice: backwards and forwards. That way, they could improve on their time. What is most praiseworthy was the group from HIIT Fitness Malta, who lent a hand to two other groups to enable them to make up the numbers.
Although the weather was threatening, and there was rain in other parts of Malta, there was no rain at all in Safi on the day, so preparations went ahead, and all was ready for the first pull that went ahead at around 11 a.m.
A group from DHL Express Malta also played their part and tried to beat the best time, coming 7 seconds short.
A father and son team, supervisor engineer Aristotelis Pantazopoulos, who sat in the pilot's seat, and his son George, also an engineer, who was on the ground outside the aircraft, ensured that the plane, which had its engines on all the time, stopped promptly at the end of each run.
"This was another successful fund-raising event, thanks to the participation and contribution of all my team at DHL Express," Country Manager Charles Schiavone said. "We are pleased that everything went smoothly, and I thank everyone for their contribution."