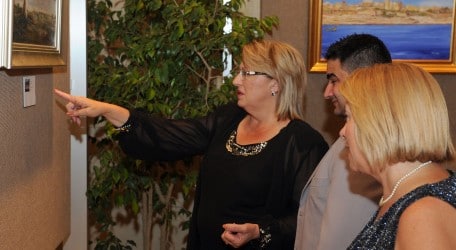 President Marie-Louise Coleiro Preca said she felt doubly privileged at the opening of the exhibition, Malta and Australia, by Maltese-Australian artist Rita Muscat Galea last Friday at San Anton Palace, Attard.
"I am a big fan and a big champion of the various causes in the sector of different abilities and without doubt I champion issues where the visually impaired," she said, praising the initiatives of the Malta Guide Dogs Foundation in developing services that promote independence and self-confidence for the visually impaired.
"I also feel privileged that we are welcoming a Maltese-Australian lady here who did not just go to Australia and make a success of her life, but remembered her country of origin," the President observed. "She did not only remember her country and come back on holiday but she cared about her country.
"She cared so much that she and her husband went out of their way to go through the hassle of bringing her work here. They did not simply want to exhibit them to show her capabilities but no, she wanted to enable us to appreciate her good work and share her talents but for such an important aim that is so needed in the social field."
The artist, Rita Muscat Galea, praised the MGDF for their contribution to make her exhibition a reality. They are a "professional and energetic a group of volunteers making up an excellent team", she said. Her art is "inspired by different moods and situations that surround me throughout my time and space.
"You are going to notice different styles of artwork – from realism to impressionist. Yet every artwork is special to me. I enjoyed every minute while I was creating these artworks; they put a smile on my face every time. I hope you will similarly derive enjoyment from them."
MGDF chairman Leone Sciberras said that in the past two years the foundation had brought over seven guide dogs, taking up the total number of guide dogs it has brought to Malta and Gozo to 12. He thanked the Sovereign Military Order of Malta (SMOM), Rotary Club Malta and l-Istrina for their support.
"Our services are not just related to providing guide dogs," he said. "We start with the basics with an orientation course that trains people to be more mobile with the use of the white cane, how to develop their character and their self-esteem and in the future we want to take that to a higher level and teach people to live more independently."
The exhibition, which is open until Tuesday, 24 June, 2014, consists of 26 paintings, varying for still-lifes and city-scapes to beach and harbour scenes of Valletta, Sydney and Melbourne, apart from the Australian Bush. Many paintings were executed in plein air, enabling the artist to inspire people's hearts and imagination.
The exhibition is open daily from 9.30 a.m. to 6 p.m.