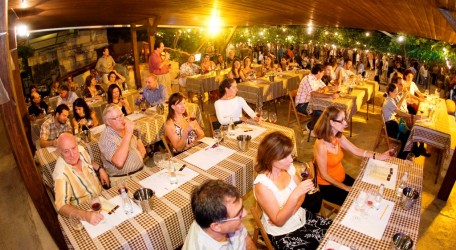 Now a regular and eagerly anticipated event on the rich Maltese summer calendar, this year's edition of the Wine Experience organised by P. Cutajar will take place on Monday 11 June and Tuesday 12 June. The extensive range of wines imported and distributed by P Cutajar hail a number of famous regions, among them,Burgundy, Loire,Piedmont, Puglia and Sicily, all very popular among the patrons who will have the opportunity to sample over 30 different wines from around the world.  As in previous years, the Wine Experience will be held at the quaint Razzett l-Abjad and promises to be a delightful experience for wine buffs and aficionados.
By popular demand a number of wine workshops and tutorials of 45-minute duration will be organised over both days.  No fewer than six leading wine experts and oenologists from the wine houses P. Cutajar & Co. represent in Malta will be flying over to share their expertise through a number of tutorials. These tutorials aim at enabling the public to better appreciate the background, history and process of making the various wines that are imported. Wine Masters and Oenologists from Italian estates Bersano, Pasqua and Martini, as well as from France's Grand Chais de France, Laroche and Bouchard Aine et Fils will hold free tutorials between 8pm and 10pm. Mr Edward Leach, director of export for Bouchard Aine et Fils will be discussing the house's rich history as well as unveiling new packaging plans while Mr Pierre-Jean Sauvion representing Le Grand Chais de France will be on hand to discuss wine from the Loire.
The tutorials will cover tips on wine appreciation, grape origins, differences in grape varieties, wine regions of the world, fermentation processes, and the background and history of wines imported to Malta and enjoyed by local consumers.   Booking for these tutorials is a must as space is limited.
This year P. Cutajar will also present a new range of Maltese wines on the local market which they distribute exclusively – Sarosa wines from the Maria Rosa Winery. Maria Rosa Winery is located in Mriehel, limits of Attard. It is a small family run winery with 4.2 hectares of vines surrounded by agricultural land and growing Cabernet Sauvignon, Syrah and Sirakuzan.  Wine production started in 2008 yielding 12,000 bottles.  Bottling started in 2011 after letting the wine age in French oak barrels in the cellars. The 2008 production is DOK certified. Guests will also have the opportunity to sample this new high end wine
"For the eighth consecutive year we invite the public to join us in our annual celebration of viticulture," said Denis Zammit Cutajar, Sales and Marketing Director at P. Cutajar & Co Ltd.  "Building on the successes of the past eight years, we plan to showcase a great selection of wines for sampling. With the assistance of our foreign partners who return every year to support and contribute with passion and enthusiasm to the success of our event, we aim to enhance people's knowledge about the world of wine giving patrons the opportunity to sample a fine and vast array of wines from around the world"
The Wine Experience opens from 7.30 pm to 10.30 pm and persons under 17 years of age will not be admitted. Patrons will also have the opportunity to buy any of the wines they like, which can later be delivered to their homes at no charge. Booking for the tutorials is highly recommended as space is limited.  To book your seat please contact Adrian Pace on 99223633 or by e-mail on [email protected]