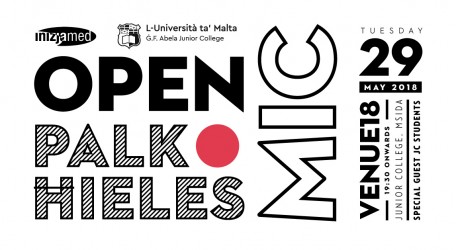 Inizjamed is once again organising an evening of Open Mike/Palk Hieles on Tuesday 29th May 2018 at Venue 18, at Junior College Msida for young and old alike to share a poem or a story or a stand-up or music performance with the audience.
The protagonists this time are the students themselves who will be lining up to showcase their talents. This is the perfect opportunity for students to share their work in Venue 18, the recently inaugurated artistic venue in the heart of Junior College, a place that they know well! There will be singing, music, reading and more.
The event is a collaboration between the Department of Maltese and the Department of English at Junior College.
Everyone is invited. Every language or sound is welcome!