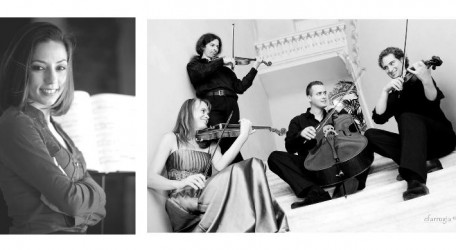 Mysterium Visitatione is a concert of Sacred Classical Music which will feature Soprano Marouska Attard and the Cordia String Quartet. This concert is being organised by the Għarb Parish Church in collaboration with the Għarb Local Council.
The repertoire includes various pieces by Mozart, Bach, Handel, Caccini, Vivaldi, Bernstein and Portelli. This concert is being held as part of the festivities held in occasion of the Għarb village feast and on completion of the restoration of two old paintings. These paintings by Vittorio Micallef date back to the 1600 and represent the Visitation and St. Luke. Both paintings were restored by Mr. Godwin Cutajar.
Soprano Marouska Attard hails from Xagħra and holds a B. A. (Hons.) and PGCE in Music from the University of Malta and Diplomas in Violin and Voice Performance. Attard is also the Director of Schola Cantorum Jubilate, one of the leading choirs on our islands. She has participated in numerous concerts as soloist, namely Gianetta in the Gondoliers, Belinda in Dido and Aeneas, Dimitri in Fedora, in Johannes Brahms' Liebeslieder Waltzer and Henze's Moralites, The Three Ladies in the Magic Flute and also in concerts held by the Manoel Theatre and St. James Cavalier, Centre for Creativity. Marouska had also participated in workshops in voice performing with Polish Professor from the Krakow Music Academy namely Profs. Jerzy Artysz, with Daniel Lichti, Profs. Thomas E. Bauer and Deborah Harrison – Rossner. In March 2009, Marouska performed in the premier of Saffi, a concert featuring new compositions by the young composer Alex Vella Gregory. Marouska interpreted the Ħames Għanjiet and was accompanied by the composer on the piano. She has also performed abroad; in Corsica, Rome, Vienna and France.
The Cordia String quartet will be accompanying the soprano. This Quartet has been established in July 2010. As from its start, the quartet has played in many occasions, concerts and recitals. The four members are all qualified professional musicians namely David Lang (Violin) Emese Toth (Violin) Jacob Portelli (Viola) Frank Camilleri (Violoncello). Their repertoire is vast and varies from Classical pieces to modern compositions. The Cordia Quartet is the first of this genre in Gozo. Its name derives from Latin which means hearts and phonetically from the Maltese word 'korda' which means strings.
All musicians will join forces and will surely produce a worth attending event. The concert is being held at the Basilica of Għarb on Sunday 30th June at 7.30pm. Entrance is free and everyone is invited.