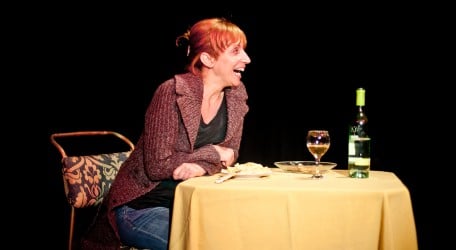 Be prepared to laugh (and cry) as you watch MADC's forthcoming production of  Willy Russell's multi-award winning play "Shirley Valentine" at the MADC Clubrooms (St. Venera) on 1,2,3,4,9,10,11 May 2014. Isabel Warrington plays Shirley Valentine and is directed by Michael Mangion.
As with his previous works, "Educating Rita" and "Blood Brothers", Willy Russell has created a theatrical masterpiece looking at the journey of an ordinary woman to regain her self-confidence in a humorous and sympathetic manner which makes it relevant to so many of us. Since its West End premiere in 1988 the play has been translated and performed in over thirty countries and made into a film which led to an Academy Award nomination for Pauline Collins in the title role.
Isabel is a well-established face on the local theatre scene. Her acting career began with the MADC One-Act Play Festival back in 1996. Her comic timing and her versatility as an actress have led her to be cast in several comedies and she has had leading roles in musical theatre.
"Shirley Valentine" is yet another challenge that Isabel was delighted to take on. "I love the script because there is so much that so many of us can relate to. I believe we all have fallen into a rut some time in our lives for whatever reason. This is what 'Shirley Valentine' is about – one woman's journey from drudgery and fear of the unknown, to finding her freedom and rediscovering herself along the way."
"Shirley Valentine" by Willy Russell, will be performed at the MADC Playhouse in Sta Venera from 1 – 4 May and 9 – 11 May 2014. For booking and further information visit: www.madc.com.mt or www.facebook.com/theMADCpage or call 7979 6232.