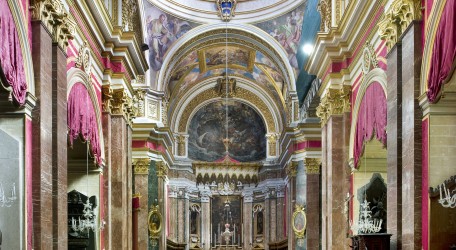 Photo above by Joe Borg
The Mdina Cathedral Contemporary Art Biennale 2015 will be hosting a night of art and food for artists, art enthusiasts and anyone interested in the event on Wednesday April 30. This is the first social event organised by the managerial team in the build-up to the Mdina Biennale.
The upcoming party will be a great opportunity to meet some of the participating artists, the artistic director Dr Giuseppe Schembri-Bonaci and the organising team of the Mdina Biennale. It is going to be held at the Roman restaurant Zero Sei, located exactly opposite the Teatru Manoel in Valletta. A selection of excellent Italian dishes, prepared specially for the occasion by Roman chefs, and wine will be available.
The Mdina Biennale traces its roots back to the previous Christian and Sacred Art Biennales of the 1990s. However, contrary to the previous Art Biennales organised by the Mdina Cathedral Chapter, next year's edition, being held between November 14, 2015 and January 31,, 2016, will be taking a radically different approach towards art and faith. The theme for the 2015 edition of the Mdina Cathedral Contemporary Art Biennale is "Christianity, Spirituality and the Other", with particular emphasis on "The Other" since it encompasses all forms of belief, or the lack of it.
This new conceptual direction has been developed by Dr Schembri Bonaci, artist, art critic and academic. With this theme, he hopes to establish the Mdina Biennale as a spiritual space of and for creativity, featuring thought-provoking and high-quality artworks. Artists from all disciplines will be exhibiting or performing in the Mdina Biennale, though the main focus will be on the visual arts.
So far, around 60 Maltese and international artists have been selected to participate, including prominent artists from France, Russia, Germany, Egypt, Italy, Portugal, Switzerland, Spain, South Korea, Australia, Poland, the UK and the US.
Maltese artists include Norbert Attard, Richard England, Mark England, Vince Briffa, Patrick Dalli, Paul Haber, Pierre Portelli, Anna Grima, Josette Caruana, Sina Micallef Farrugia, Anthony Micallef, Victor Spiteri and James Micallef Grimaud.
There will also be performances by the Malta Philharmonic Orchestra's chief conductor Brian Schembri, composers Karl Fiorini, Reuben Pace and Albert Garzia, actor Pino Scicluna, and contemporary dance by Francesca Abela Tranter.
All the necessary information and contact details may be found on the Mdina Cathedral Contemporary Art Biennale 2015 website and Facebook page. Tickets cost €20. For reservations, email [email protected] or call Melanie Farrugia on 9945 4277. Space is limited and booking is confirmed against payment. www.mdinabiennale.org.