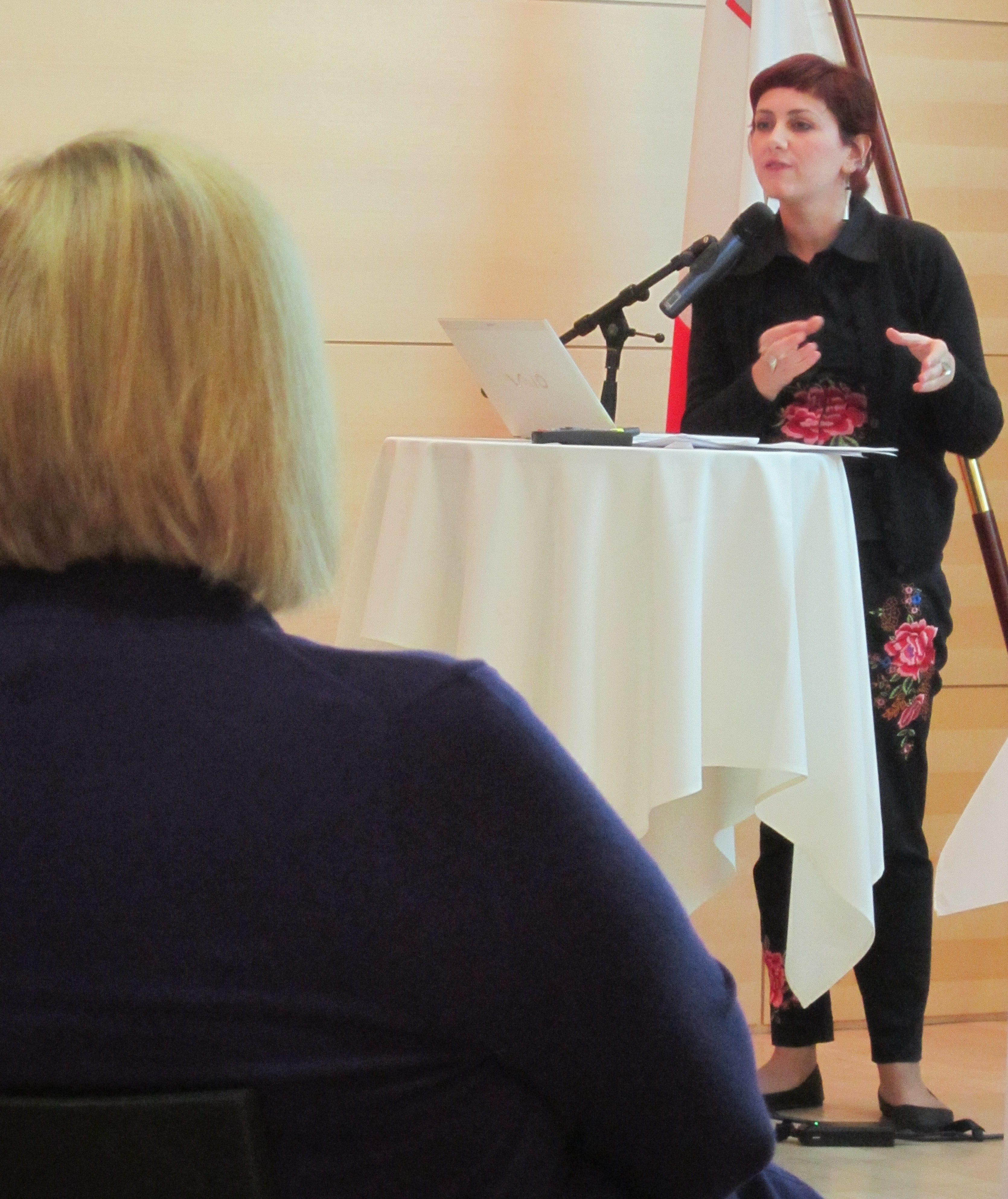 Pictured above:  Nadège Cassar speaking about her jewellery
A presentation on Maltese Jewellery was recently held at the Maltese Embassy in Berlin, Germany. Organized by Mrs. Daniela Xuereb, wife of Mr. Karl Xuereb, Ambassador of Malta to Germany, the event hosted more than 60 guests including wives of Ambassadors to Germany and members of the Willkommen in Berlin (WIB) Club. With Maltese filigree being the core subject of the event, renowned Maltese filigree maker Mr. Gaetano Saliba, from Saliba's Gold and Silversmiths, gave a live demonstration on the making of this local tradition. Mr. Saliba was accompanied by Ms. Nadège Cassar, a Maltese designer and contemporary jeweller from Nadège Renée Exclusive Jewellery. Both Mr. Saliba and Ms. Cassar have just exhibited in the 'ImportShop' fair in Berlin, an international fair for handicrafts.
After a short welcome by Ambassador Xuereb, Mrs Daniela Xuereb delivered a presentation prepared by Francesca Balzan based on the information in the book that Francesca had published in 2009. The lecture highlighted the different influences of the various people that settled in Malta, from ancient times until today. The lecture was supported by a power point presentation depicting example images of jewellery pieces from each era. Ms. Francesca Balzan, who is Curator of Palazzo Falson Historic House Museum, where a significant collection of historic jewellery can be seen, is an art historian who has specialised in the history of jewellery in Malta. Her recent publication 'Jewellery in Malta, Treasures from the Island of the Knights (1530-1798)' (FPM, Malta 2009) was awarded the National Book Prize 2009. She is now working on the forthcoming exhibition of Fondazzjoni Patrimonju Malti which will focus on jewellery in Malta, from pre-historic till contemporary times.
Mrs. Xuereb also delivered a lecture on the history of Maltese Filigree that was kindly prepared by Mrs. Marika Azzopardi. The presentation delved into the different aspects of filigree jewellery in Malta throughout the 19th Century and what led to Maltese Filigree acquiring such a strong placing amongst other Mediterranean and European jewellery forms.  Mrs. Marika Azzopardi is a well-known and prolific journalist, writer, art reviewer and blogger as well as being a qualified Art Historian who has carried out an in-depth research into the topic of Maltese Filigree Jewellery, the first of its kind in Malta. She has researched Maltese Filigree Jewellery in several Maltese Museums and private collections as well as at London's Victoria & Albert Museum, amongst others. Mrs Azzopardi also organised a filigree exhibition at Palazzo Castellania, Valletta in 2009.
This was followed by an introduction to the art of filigree making by Gaetano Saliba, who also recounted the history of his family business and gave a demonstration of the production of filigree. Mr. Saliba explained the long and intricate process of this beautiful trade, starting off from the primary processes of melting silver which would be later drawn into wires of different gauges required for the production even the seemingly simplest types of filigree jewellery. Mr. Saliba explained the processes through an array of tools and equipment which he set up to aid the guests into understanding the elaborate processes. Apart from giving technical information, Mr. Saliba also gave a live demonstration of the manufacturing of silver filigree.
Following Mr, Salba, in her address Nadège Cassar delivered a presentation on the concept of transformable jewellery. Ms. Cassar gave a brief historical insight to transformable jewellery through various examples of jewellery designers and their works.  Ms. Cassar also explained how she explored the wearer's need of change needs vis-à-vis transformable jewellery for practical purposes and transformable jewellery as emotional design. She explained her approach stating off from inspiration, to design and functionality, and how materials can be used in versatile combinations to achieve diverse effects through her past projects, commission pieces and planned projects.
After the lectures the guests were treated to Maltese wine and some delicacies whilst taking the opportunity to get a closer look at the jewellery on display. The ladies were also able to ask Mr. Saliba and Ms. Renée questions on their diverse styles, their sources of inspiration and their future ideas and projects.
The ladies attending lauded this event which enabled them to gain insight into Maltese culture and appreciate the creativity of the two Maltese artisans.
Gaetano Saliba, a leading filigree producer in Malta, established the firm Saliba`s Gold & Silversmith in 1989, but the origins of the family trade can be traced back to the 19th century. The method used to create each piece of filigree is still based on traditional filigree making, but also incorporates modern techniques to produce genuine, creative and artistic jewellery. The filigree works are all handmade. As part of its mission and vision, Saliba's Gold & Silversmith constantly plays a key role in keeping the filigree trade alive not only in Malta but also overseas. Gaetano Saliba has exhibited in trade fairs in Italy, Switzerland, Germany and Belgium.
With her unique jewellery Nadège Renée creates exclusive or limited edition collections. She uses sterling silver as a core material, often combined with precious or semi-precious stones, crystal, leather and wood. Nadege holds a BA Hons in 3D and interior design specialising in jewellery from MCAST. She was awarded Premju Ġieħ l-Artiġjanat Malti 2011 for The Lotus Set as well as the WIPO Award for Creativity and Innovation for her final dissertation project, the transformable 'Boomerang' in 2010.
Wilkommen in Berlin, is a diplomatic club affiliated to the Federal Foreign Office under the patronage of the State Secretary. Its members come from over 100 countries. Members include partners of accredited diplomats in Berlin and diplomats themselves as well as and spouses from the Federal Foreign Office and spouses of former diplomats. The German members work on a voluntary basis and to introduce a broad spectrum of German culture to the members of the club, and to encourage and support cultural exchange.