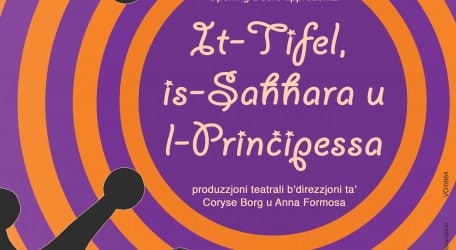 For its fifth performance to be staged at St. James Cavalier, Opening Doors theatre group will again lead its audience to that shadowy and magical space between reality and fantasy.
'It-Tifel, is-Saħħara u l-Prinċipessa' ('The Boy, the Witch and the Princess') will take its audience on a journey into a fairytale kingdom where anything can happen.
Within this devised performance are again the recurring themes within Opening Doors' work of love and friendship, with the fairytale world allowing for the message that 'love conquers all' to come through.
The performance will make use of the Maltese language, but is not dependent on language to be understood and enjoyed.
Opening Doors Association works for the active participation of persons with intellectual disabilities in creative experiences.
'It-Tifel, is-Saħħara u l-Prinċipessa', under the direction of guest director Coryse Borg and resident director Anna Formosa, will take place at St. James Cavalier Theatre-in-the round on the 16, 17, and 18 May at 19:30pm. Tickets at €8 (concessions/members €6)
On the 17th and 18th of May, the theatre performance will be followed by a demonstration from our dance group under the direction of Sandra Mifsud.
Opening Doors Association will also present a forum on Monday 19th May Theatre, at St. James Cavalier, Centre for Creativity Time: 16:00-20:00.  Forum is entitled 'The Aesthetic Spectrum: Opening up the Stage to Performers with Intellectual Disabilities'.  It  will be chaired by Rotarian Prof Jo Butterworth, Chair of the School of Performing Arts, University of Malta, and include a key-note speech from Salvo Pitruzzella, leading Italian dramatherapist and lecturer in Pedagogy of the Arts at the Fine Arts Academy of Palermo.  Entrance is free and for more information contact:
[email protected]   Tel: 77999562 Facebook: Opening Doors Association.
Opening doors thanks St. James Cavalier, Centre for Creativity; Malta Arts Fund; Teatru Manoel; Rotary Club La Valette Malta for their support.