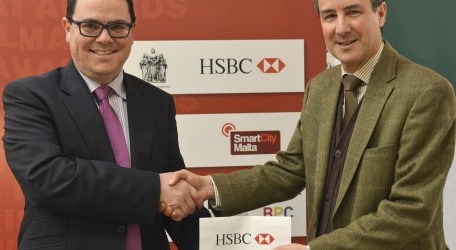 Pictured above: HSBC Malta's Franco Aloisio presenting the Bank's sponsorship of the Malta Journalism Awards to IĠM Chairman Malcolm J. Naudi 
HSBC Bank Malta is sponsoring the print journalism – news category of the 24th edition of the Malta Journalism Awards in recognition of Maltese journalists' contribution to society. Organised by Institute of Maltese Journalists (IĠM), this is the 24th consecutive edition of the awards. Today, the 16 award categories are sub-categorized under four major areas of journalism: print, broadcast, e-journalism and general categories.
"As well as providing important and much deserved recognition for outstanding journalistic contributions, the IĠM awards have become an important reference point for developments in this vital sector for Malta's democratic credentials. Over the past 24 years, the Institute of Maltese Journalists has helped bring tangible and significant improvements by promoting higher standards and ethical journalism in Malta," said HSBC Malta's Head of Communications Franco Aloisio.
The winners of each category will be announced during a presentation ceremony being held on Saturday, 3 May, 2014, at The Palace Hotel, Sliema. The ceremony will be televised in the following days.