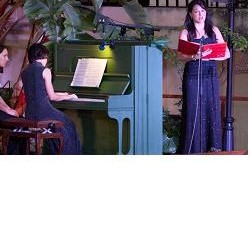 Pictured above: Internationally renowned British-born mezzo soprano Sophia Grech and pianist Joanne Camilleri performed semi-classical pieces at Casa Antonia's gardens
Casa Antonia celebrated its 10th anniversary with a semi-classical concert featuring the renowned British-born mezzo soprano Sophia Grech accompanied by the pianist Joanne Camilleri. With her natural strong voice, Sophia interpreted solo arias from popular classics and delightful Spanish folk songs for its residents and guests at Casa Antonia Nursing and Residential Home's lavish gardens in Balzan.
The celebration concert was attended by the residents of Casa Antonia, including one centenarian lady and 10 residents who have been residing at Casa Antonia the day it opened in 2003.
Managing Director Mr Edward Vella and General Manager Dr Sarah Cassar welcomed the distinguished guests, residents and acknowledged the contribution given by the nursing and caring staff.  "Throughout these ten years we have ensured for residents a quality of life they truly deserve in terms of medical care, treatment, attention and happiness," he said.
Over 120 well-trained employees provide a holistic service for the residents' needs: comfortable accommodation and care, medical care and other services such as hairdressing, beautician, social activities, and catering for private parties amongst others. At Casa Antonia, residents enjoy many social activities in the common areas and landscaped gardens, including daily mass, bingo, cooking, crafts, regular outings, live music, cinema nights, keep-fit on a weekly basis and special occasions.  A Church of England mass is also said for the foreign residents.
Casa Antonia held a second concert on the following day with the guest participation of  leading singers Renato, La Barokka and Eleanor Cassar. Sophia Grech and pianist Joanne Camilleri featured in the first part of the programme.
Following the two concerts the guests and residents were treated to a celebration reception where they enjoyed sharing some of their life experiences.
Casa Antonia residence has established itself as one of Malta's top nursing and residential homes, offering long-term care, short-stay convalescence, rehabilitation and respite care. It is spread over a large area of tastefully decorated spaces in classic design and surrounded by nice and peaceful gardens, offering a comfortable accommodation for 130 residents, which can be enjoyed in single rooms, sharing, or apartments.