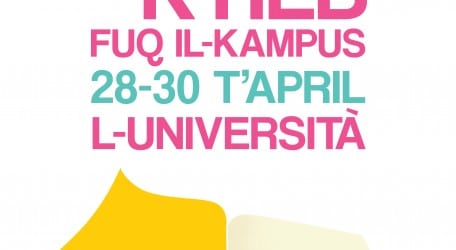 The Għaqda tal-Malti – Università will be organising the first edition of the Book Festival on Campus, in collaboration with The National Book Council.  The Festival will be held between the 28th and 30th April kicking off daily at 9:00, till 16:00. Some of the activities will be held after 18.00.
Some of Malta's leading publishers and distributors will be having their book stand: Sierra Book Distributors, Horizons, Faraxa Books, Sensiela Kotba Soċjalisti, Bronk Productions, and Agius and Agius. Books by other publishers will be available, while The National Council for the Maltese Language will also have a stand. There will also be a number of activities on different parts of the Quadrangle, some of which will involve established writers, distinct critics and students:
–        Sexuality in the Maltese Literature: a discussion between Trevor Żahra, Immanuel Mifsud, Sean Buhagiar and Aleks Farrugia, amongst others.
–        Fight Club: a film with Maltese subtitles, translated by Simon Cassar, with the help of Prof. Toni Aquilina.
–        Aqrali, qaltli: another public reading by Immanuel Mifsud; this time Mifsud will be reading Fl-Isem tal-Missier (u tal-Iben).
–        Transessjoni: a public reading and discussion between the participants of the creative writing  programme TAĦŻIŻ2
–        …ħsieb il-ktieb: a talk on how to organize and take care of your own private library.
–        Musical adaptations by Danjeli to some of the literary pieces found in Leħen il-Malti (32).
More details about the Festival will published in the coming days. The event on Facebook is to be found here: www.facebook.com/events/1420579458192903. The Festival is open to all.