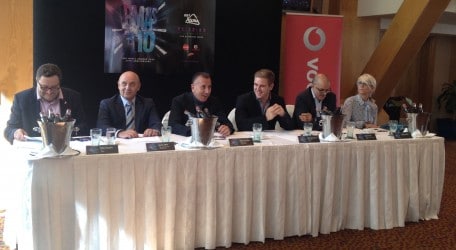 The 10th Anniversary of the Bay Music Awards is set to take place at the Bay Arena on Saturday 21th December. Celebrating 10 years of 89.7 Bay's biggest event, the evening will include the very best in local talent along with many fantastic surprises, including special live performances by Malta's biggest artists – Winter Moods, Red Electrick, Ira Losco, Airport Impressions and Christabelle. Also bringing excitement and energy on the night are 89.7 Bay's very own DJs – Bay Breakfast host Dorian Cassar and Drive Time's Nathan D.
There will be a unique SMS number for each of the Awards. To vote, listeners are required to send the artist/band name to the specified number via SMS. Voting will commence on Tuesday 12th November, and end on Sunday 15th December at midnight. There is a strict limit of three votes per category from each mobile number. All nominees and numbers are presented below:
Viewer's Choice
SMS Number to vote: 50 615 305
Best Newcomer
1. Kid Crisis
2. Joe Roscoe
3. GypsyGenes
SMS Number to vote: 50 615 303
Best Dance Tune or Remix
1. 'Never Let Go' – Carlo Gerada and Kristina Casolani
2. 'Loving You' – JJoy ft. Christina Novelli
3. 'Endless Flame' – Armani ft. Cazzi Opea
SMS Number to vote: 50 615 302
Best Band
1. Red Electrick
2. The Crowns
3. Planet Seed
SMS Number to vote: 50 615 301
Best Song
1. 'Runaway' – Red Electrick
2. 'Never Let Go' – Carlo Gerada and Kristina Casolani
3. 'The Person I am' – Ira Losco
SMS Number to vote: 50 615 300
Voters will get the chance to win a fabulous dinner for two at the Waterbiscuit in St. Julians.
The Bay Music Awards will be aired on ONE TV for the first time on Wednesday 25th December at 15:00, with a repeat show on Easter Sunday. Voting for the Viewer's Choice Award will officially open during the first screening of the BMA's, and will end at midnight on Sunday 5th January. The Winner will then be announced on Wednesday 13th January on Dorian's Breakfast show.
Bringing music and fashion together, Carina Camilleri from model.com.mt will be putting together a spectacular fashion show starting at 9:30pm, just before the music awards. The show will include 20 models from models.com.mt, as well as 11 new models chosen from the 89.7 Bay Model Search. The fashion show will feature young and fresh collections from New Look, as well as Guess. Makeup on the night will be done NYX Professional Make Up, and hair by Pierre Camille.
Regular event tickets will be sold for €10; premium, front section 'screamer' tickets at €15; and a limited number of VIP tickets available at €30 each – including an open bar and canapés. Tickets can also be purchased online at www.bay.com.mt/bmas.html The Bay Music Awards will also include a Teen Area, specifically for those aged 14 to 17. This section will be entirely dedicated to the younger teens, where non-alcoholic beverages will be served. Teen tickets are available from the Eden Cinemas Box Office for just €10.
The 2013 Bay Music Awards are sponsored by Coca Cola and Vodafone, and supported by Air Malta.