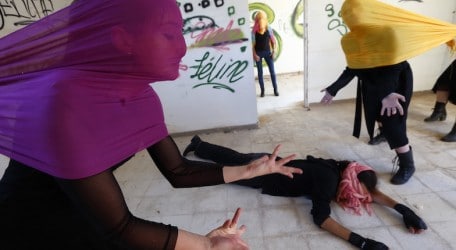 Attempts on her life by Martin Crimp will be produced by Unifaun Theatre and performed at  St James Cavalier 30, 31 October, 1, 5, 6, 7, 8, 12, 13, 14 November 2015
This production is made up of 17 scenarios for the theatre by Martin Crimp.
Attempts to describe her?
Attempts to destroy her?
Or attempts to destroy herself?
Is Anne the object of violence?
Or its terrifying practitioner?
Martin Crimp's 17 scenarios for the theatre, shocking and hilarious by turn, are a rollercoaster of late 20th-century obsessions.
From pornography and ethnic violence, to terrorism and unprotected sex, its strange array of nameless characters attempt to invent the perfect story to encapsulate our time.
Directed by Dave Barton with choreography by Sandra Mifsud, the cast includes Lizzie Eldridge, Marie Keiser-Nielsen, Bettina Paris, Mariele Zammit, Ruth Borg, Antonella Mifsud, Larissa Bonaci, Philip Leone Ganado, Timmy Paris and Vladislav Ilich.
EARLY BIRD TICKET €3 DISCOUNT UNTIL 30 SEPTEMBER
Buy tickets here.  Or call 00356 21223200.
Photo credit: Darrin Zammit Lupi