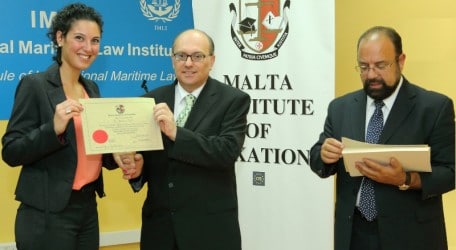 Pictured above: Ms. Charmaine Tanti receiving first in 2012/2013 class diploma from the Dean of the Faculty of Law Prof. Kevin Aquilina, in the presence of the President of the Malta Institute of Taxation Dr Renald Micallef  
Preparations are in hand for a Masters Course in Taxation to be introduced by the University of Malta in conjunction with the Malta Institute of Taxation (MIT) as from the academic year commencing in October 2015. The new arrangement will further strengthen the Institute's position among the foremost European tax organizations that provide academic studies for their members.
This was announced during the MIT graduation ceremony granting diplomas to students who successfully concluded the Institute's Diploma Course in Taxation for 2012/2013. Students commencing this year's course beginning in October 2013 were also present.
"Over the past decade, the Institute's Diploma Course has produced more than 300 successful graduates.  The Diploma Course will continue to be the Institute's responsibility, but it will now also form part of the Masters course which is open only to Diploma holders," explained MIT's President, Dr Renald Micallef. "It is planned that membership of the Institute will be linked with the new educational structure."
The Masters course is in line with the University's drive to further taxation studies in Malta. Speakers at the graduation included the Dean of the Faculty of Law Prof Kevin Aquilina, the Head of Public Law Dr Austin Bencini and MIT President Dr Micallef.
Ms Charmaine Tanti, first in class for the 2012/2013 Diploma Course delivered a keynote speech highlighting her own experiences during the course and providing some valuable suggestions.
More information about the Malta Institute of Taxation is available on 2131 4653, via e-mail at [email protected] or from the Institute's website: www.maintax.org