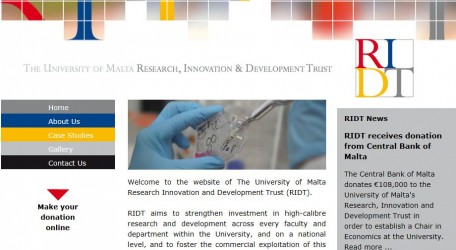 The recently set up University of Malta's Research Innovation and Development Trust (RIDT) is inviting individuals and corporations to support the university's research activities by giving donations through its new online donation portal:  www.ridt.org.mt .
The donation portal is part of a new RIDT website which provides a platform for the public to keep updated on developments within the Trust and the University's research activities.  The website features some initial case studies of research projects that are being carried out at University. New case studies will be updated on a regular basis.
With this Trust, the University confirms its resolve to increase its role for research and innovation, contributing toMalta's socio-economic development.  To realise these goals, the University requires independent funds. RIDT is asking individuals and groups to help; even small amounts as single donations are appreciated.
Wilfred Kenely, RIDT CEO, said: "The future of the University's research activities will rely heavily on funding resources.  A lot is already being done with a very modest research budget that the University receives from government, and from its participation in research programmes. We are now reaching out to other stakeholders for support. We believe that with the help of the Maltese generous community, especially of graduates from this University, we will be able to further the advancement of research, innovation and development in all areas of study in Malta."
Donations, which could be given towards specific areas of interest or to the University trust in general, are tax deductible. Donations of €150 and over may be claimed as a deduction against income for the year of assessment in which they are made.
The Trust fund was established at the University of Maltawith an initial capital of €500,000 invested by the Malta Government. As the University expands its sphere of research projects, it is increasingly becoming more reliant on patronage and sponsorships from businesses and individuals.
Earlier this year, the Universityof Maltapublished its first bi-annual magazine, Research Matters, featuring some of its key research projects at the University of Malta.
Those who wish to donate money can log on to www.ridt.org.mt while for more information, one may contact RIDT CEO at [email protected] or tel: 2340 8201.