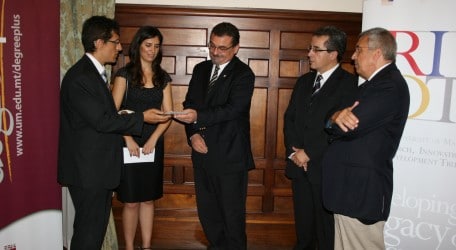 Pictured above: Prof. Joseph N. Grima, Ms Christine Zerafa, Professor Juanito Camilleri, Mr Jean Paul Abela and Mr Wilfred Kenely
University students raising funds for research is a relatively new concept for Malta. Two upcoming musicians saxophonist Philip Attard and pianist Christine Zerafa have come up with the idea of performing a sax-piano recital at St James Cavalier Centre for Creativity in Valletta to generate funds for the newly set up Research Innovation and Development Trust (RIDT) of the University of Malta.
Performing under the name of Batera Duo, the two students used their musical talents to entertain a delighted audience by delivering a first class performance. This was the first example of the various types of initiatives that can be taken by University students and graduates to raise much needed funds for RIDT in order to finance more research at University. The Trust has been set up to attract funds and to support the further development of high-calibre research projects.
The concert was organized within the DegreePlus framework which is a University of Malta initiative to encourage students to view their University years as a time for personal growth and development.  Sponsored by Bank of Valletta as part of its Corporate Social Responsibility projects, DegreePlus provides students with an exciting and diverse range of opportunities to help them broaden their academic and non-academic skills base.
University Rector Professor Juanito Camilleri thanked the two students for looking beyond their every day studies and for participating in this RIDT initiative. He said that the University really appreciated the fact that the students themselves were contributing to a fund that aims at providing more research opportunities at their University.
Professor Joseph N. Grima on behalf of DegreePlus committee and RIDT Chief Executive Officer Mr Wilfred Kenely both observed that the standard of the concert was first class. They said that Ms Christine Zerafa, who is reading for a Master of Philosophy in Chemistry, and Mr Philip Attard, reading for a Bachelor of Arts (Honours) Music Studies, were an example to their peers. Also present was Bank of Valletta Manager PR and Social Media Mr Jean Paul Abela.