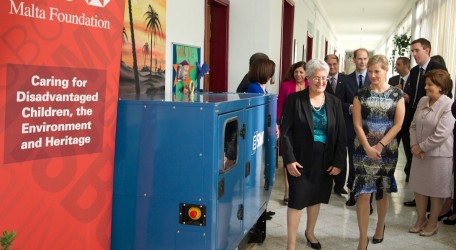 Pictured above: The Earl and Countess of Wessex inaugurating the Helen Keller Resource Centre's new generator during their recent visit, together with the Head of School Connie Richard (Left) and Ms Catherine Gonzi, Chairperson of the HSBC Malta Foundation (right)
The students receiving an education, care, and support at the Helen Keller Resource Centre now have the added protection of a new power generator, inaugurated during the recent visit by the Earl and Countess of Wessex  on the Centre's 20th anniversary.
Catering for students with profound and multiple learning difficulties, the Centre offers care and support to assist them in furthering their education. The state-of-the-art generator donated by the HSBC Malta Foundation will ensure that the various electrical devices vital to the students' wellbeing, learning and mobility are functional at all times and remain uninterrupted.