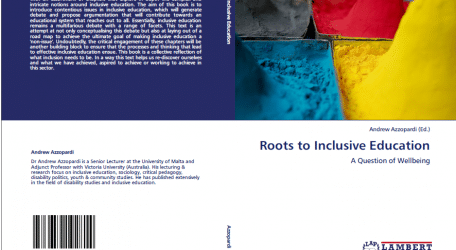 Roots to inclusive education: A question of wellbeing is another edited text by Dr Andrew Azzopardi, following  Making sense of inclusive education: Where everyone belongs (VDM Verlag), with an assortment of chapters that explore in depth the complex and intricate notions that encapsulate inclusive education.
Essentially, inclusive education remains a multifarious debate with a variety of facets. This text is an attempt at not only conceptualising this discourse but also at laying out a road map to achieve the ultimate goal of making inclusive education a 'non-issue'. Undoubtedly the critical engagement taken up by the authors of these chapters will be another building block to ensure that the processes and thinking that lead to effective inclusive education ensues.
This book is a collective reflection of what inclusion needs to be. In a way this text helps us discover ourselves and what we have achieved, aspired to achieve or working to achieve in this sector. It is a reflective piece of work, whereby a large number of contributors mainly from the local scene, are converging their insights and reflections.
In this work we fluctuate from reading "inclusion" as an isolated notion to speaking about "inclusion" in a focused applied concept in education, a contestable idiom seasoned with a mass of 'currents and beliefs' (Clough and Corbett 2000). We need to move away from interpreting the notion of inclusive education simply as a politically correct term that is used by politicians in their speeches and for policy-makers to silence all woes.
The aim of this book is to introduce contentious issues in inclusive education that will expectantly generate debate and propose argumentation that will contribute towards an educational system that reaches out to all.