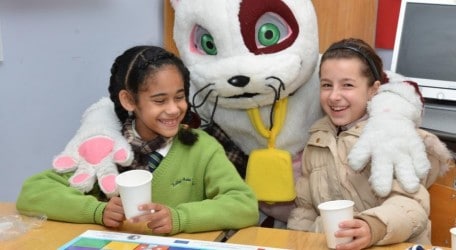 Children were surprised during their morning assembly when Mu-Mu and Captain Kalċ interrupted the headmistress of Maria Regina College, St Paul's Bay Primary School, to animate the launch of an intervention aimed at promoting the benefits of drinking milk as part of a healthy lifestyle.
In our schools, every effort is made to improve the quality of everyday life of pupils and their families, and to help them make informed healthy life choices.  Milk is one of the purest and most natural healthy food and drink suitable for all ages, and therefore is an important part of every child's diet. The nutrients, minerals and vitamins found in milk are essential to growth, development and maintenance of the human body. Milk is a significant contributor to the human diet and one of the most nutritionally complete foods available on the food market to date. These school visits are intended to help children explore the
importance of milk with the aim of instilling healthy attitudes and behaviours, as well as creating a ripple effect to their parents and families.
As part of The "Milk is good naturally" campaign, which is funded by the European Union, the Joint Committee for Koperattiva Produtturi tal-Halib and Malta Dairy Products, and the Ministry for Resources and Rural Affairs, Mu-Mu and Captain Kalċ will be visiting a number of schools around Malta and will be participating in interactive learning activities which will be carried out with children. Such activities, which have been designed and developed by the Home Economics Seminar Centre (HESC), include a life-size Snakes and Ladders and Milky Moos board game, which feature as part of an ICT-based intervention. A booklet which comprises a set of activities in English and Maltese will be distributed to participants. Mu-Mu and Captain Kalċ will also be encouraging children to help themselves to a free refreshing glass of milk.
The Home Economics Seminar Centre, a recognised entity that promotes health in various settings by offering a diverse array of services, aims to foster in students a number of positive behaviours that contribute to better health, an improved environment and healthier consumption choices.  The Home Economics Seminar Centre forms part of the Curriculum Management and eLearning Department within the Directorate for Quality and Standards in Education.