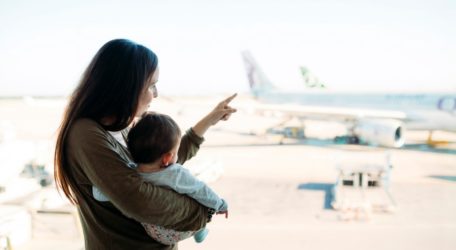 by Lissa Miller

Whatever your situation, it can be tricky to weigh the pros and cons between flying with your child on your lap or in his or her own seat. We'll go over the financial and practical benefits of each option so you can make the best decision for you and your tiny traveler.
The editorial content below is based solely on the objective assessment of our writers and is not driven by advertising dollars. However, we may receive compensation when you click on links to products from our partners. Learn more about our advertising policy.
The content on this page is accurate as of the posting date; however, some of the offers mentioned may have expired. Please see the bank's website for the most current version of card offers; and please review our list of best credit cards, or use our CardMatch™ tool to find cards matched to your needs.
Want to show off your new baby to a friend who lives on the opposite side of the country? Longing to introduce your 11-month-old to your aunt who resides in London? Whatever your situation, it can be tricky to weigh the pros and cons between flying with your child on your lap or in his or her own seat.
The right answer may depend on a couple of things, including whether you want to save a little bit of cash. We'll go over the financial and practical benefits of each option so you can make the best decision for you and your tiny traveler.
Lap child vs. purchasing a seat
There are a few general rules and differences between reserving a seat for your child and opting to have your child sit on your lap during a flight. The biggest rule is that children can no longer be considered "lap children" after two years of age. Note that whether you decide to have a child on your lap or purchase a seat, you also may need to provide proof of age from a birth certificate, passport or immunization record.
Advantages of purchasing a seat
Purchasing a seat will allow more space for you and your child, particularly if your child is a busy toddler.
You purchase a ticket online the same way you would an adult ticket, just choose "child" and indicate the child's age before you purchase the ticket.
Most airlines allow families to check strollers and car seats for no additional fee whether you have a lap child or you purchase a seat (refer to the specific airline rules in the chart below).
The child and adult traveling together must be ticketed in the same location. For example, the child cannot be in coach and the adult in first class.
Purchasing your child's seat with credit cards
You can earn points because it counts as a regular ticket if you opt to buy a seat for your child. Most U.S.-based airline mileage is based on the price paid for the ticket, not the distance flown — so a child fare could earn fewer miles based on the amount of the discount.
There are other direct benefits to purchasing a ticket — especially if you have a child approaching the age of two. Buying your child a seat can give you a break from holding a squirmy toddler on a long flight and offer more safety for the child in case there's severe turbulence.
You can use rewards to cover the cost of your child's ticket, but if you want to save money, some airlines offer a discount for children. In fact, there are domestic and international discounts for tickets for two-year-olds to about age 11, according to The Points Guy.
For example, Frontier Airlines introduced a Kids Fly Free program for kids up to 15 years, as long as there's one per paid adult on the reservation and a family member has a $59.99 Frontier Discount Den membership. In addition, Southwest also offers a ticket discount to children traveling in an FAA-approved child restraint, such as a car seat.
Booking a flight with a lap child
You can book a flight for a lap infant the same way you'd book a flight for an adult or a child who's older than two. Simply book online and indicate that you have a lap child in the flight search box. Note that you don't specifically have to book a lap child in advance. You can just tell the agent at check-in that you have a lap child and the agent should be able to give you a paper boarding pass.
Your child will need to have a paper boarding pass that says "lap child" on it; mobile tickets will not say "lap child."
Only one child per adult lap is allowed. One-year-old twins would need to be accompanied by two adults, for example.
You can't take advantage of a luggage allowance with a lap child. Luggage for a lap child is checked with adult luggage and is subject to the extra baggage fees charged by the airline.
Quick tip: You might be able to find an empty seat next to you, particularly if you're flying Southwest, with its "seat yourself" policy. By default, it's possible to get away with a free seat.
Purchasing your lap infant's seat with credit cards
You can book lap infant travel using airline credit cards the same way you would a regular flight for an adult. The catch? You won't earn mileage or other frequent flyer benefits for your traveling tyke, which means no elite miles, dollars or segments.
Lap child policies by airline
Below is a table with all the lap child policies by airline. Search your airline in the chart to see which would be the best airline for you and your lap child:
Stroller policies
You can check car seats and strollers for no additional fee, and it won't count against your baggage allowance — whether you have a lap infant or a child on a paid fare. For example, United's website states that customers may carry the following infant and child articles on board, in addition to the maximum carry-on baggage allowance:
Diaper bag
Breast pump and milk
Government-approved child seat, which could include an infant carrying seat or car seat. Note: Check to see that the seat has a sticker that says it's FAA-approved for air travel. Otherwise, it could be turned away at the gate.
Compact folding stroller that meets the carry-on baggage size guidelines (could vary depending on the airline).
International implications
Foreign travel will often cost you money. Typically, you pay the taxes and fees for your lap child and a 10 percent fare if you fly on a revenue ticket. While it doesn't sound like a lot of money, it can add up, according to The Points Guy.
For example, an international round-trip ticket for a child could easily be $400 from New York to London. What if you decided to fly with your child on your lap instead? It's possible that taxes and fees could run you close to $175. For an extra $225, you'll have to decide whether you prefer to give your child his or her own seat.
There are a few airlines (JetBlue, Southwest and Alaska) that just charge taxes, not a percentage of the adult fare for lap children, so be on the lookout for those airlines if you're determined to get your child his or her own seat and save money.
Keep your eye out for other perks, too. For instance, some airlines may also offer a complimentary bassinet on an international flight for a child under six months of age.
Other considerations
Sometimes, in lieu of saving money, you may want to consider saving time instead. Children can get in line with you if you have TSA PreCheck, but if you have Global Entry, your child will need it, too. Global Entry means you can bypass customs and immigration for check-in at a kiosk with a PIN number and a fingerprint scan. You must complete a Global Online Enrollment System account for your child, pay a $100 application fee (non-refundable) and schedule and be present for an interview with your child at a Global Entry Enrollment Center.

Source: https://www.creditcards.com/credit-card-news/infant-air-travel-guide/