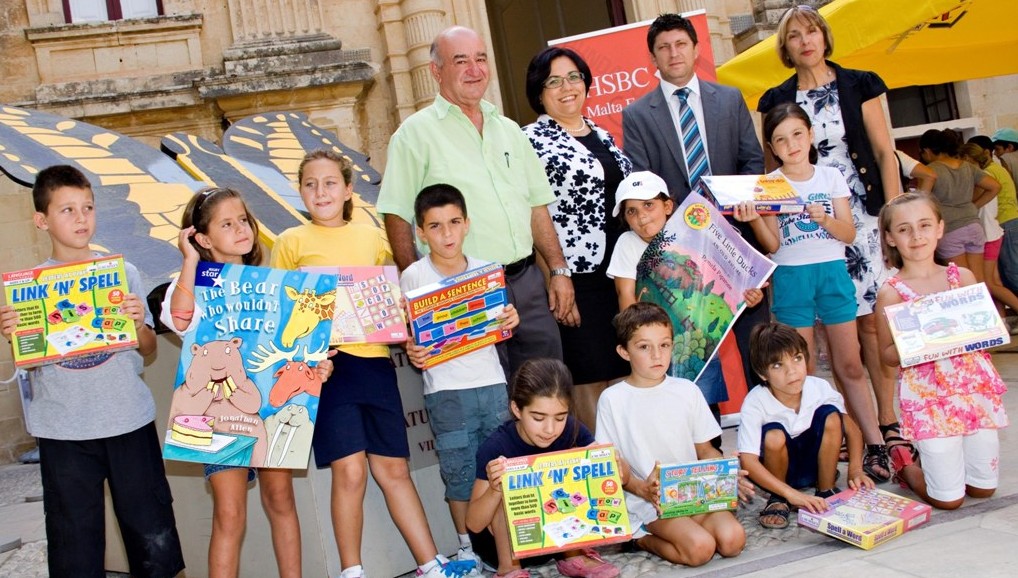 Pictured above: Klabb Sajf members displaying new book and learning tools together with (back row from left) Saviour Saliba, HSBC's Manager for Corporate Sustainability Doriette Camilleri, Dr Stephen Spiteri, and Anna Maria Gilson
The HSBC Malta Foundation has sponsored books and learning tools for children attending Klabb Sajf, as part of the HSBC Malta Foundation's mission to offer better education and quality of life to children facing educational challenges.
Klabb Sajf, an educational project under the umbrella of Skola Sajf, is a summer extension to the complementary education programme provided in schools to offer a better education through extracurricular learning and recreational opportunities.
"This marks the 12th consecutive year that HSBC Malta Foundation has supported Klabb Sajf, offering an enduring example of how Corporate Sustainability can actively contribute towards society," said Dr Stephen Spiteri, Parliamentary Assistant to the Minister for Education and Employment, during a presentation ceremony at the National Museum of Natural History in Mdina, also commemorating Skola Sajf Animal Awareness Day.
The Parliamentary Assistant praised the Skola Sajf initiative for offering more than 3,000 Maltese and Gozitan children the opportunity to make the most of their summer holidays, while giving their parents the chance to continue their normal work schedules.
Skola Sajf and Klabb Sajf organiser Saviour Saliba and Anna Maria Gilson, Service Manager within the Directorate for Educational Services, thanked HSBC for their ongoing support to help children improve their reading and writing skills in English and Maltese.