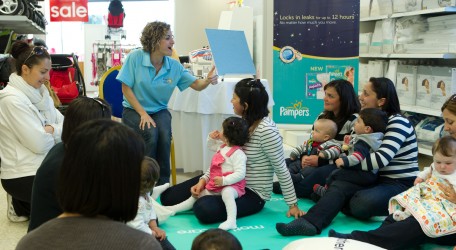 The multi-award winning British baby development programme Sing and Sign recently opened its first franchise outside the UK here in Malta. To date, the programme, which was developed with the help of speech and language experts has taught thousands of parents across the UK how to sing and sign with their babies, enabling and encouraging amazing early communication.
Using simple signing for the most important key words babies are starting to learn is widely recognised by speech and language experts as beneficial in encouraging the development of a child's speech. Babies use all kinds of signs and gestures as a natural part of learning to talk. Encouraging your baby with extra signs like milk, more, change nappy or tired will simply help your baby communicate sooner allowing mother and baby to "talk" to each other before the speech development stage.
Members of the Pampers Baby Club and the Mothercare Baby Bump Club had the opportunity to attend a free session of Sing and Sign and introduce their babies to this entertaining way of learning. The feedback was overwhelming. The mothers' reaction to the signing was instant delight and the greatest pleasure was the expression of comprehension that crossed their faces when they began to understand how to use singing in order to communicate basic needs.
For more than 40 years, Pampers has been helping to improve life for babies, toddlers and the parents who care for them through a complete line of diapers, training pants and wipes designed for every stage of the baby's development. Since most of the researchers at Pampers are parents themselves, they take great care in developing products and initiatives that benefit mum and baby and that are committed to making a difference in their lives.
Mothercare provides parents and parents-to-be with a one-stop shop where they can find all the best quality and innovative products for their children under one roof. The stores are parent and child friendly and the sales advisors are trained to offer expert advice giving parents peace of mind on their purchase decisions. Mothercare believes that the difference is in the detail and that is why they invest in creating each product with care, ensuring specialist insight is given upfront enabling them to offer customers a wide range of products that have a compelling mix of strong design, exceptional quality all at great value for money.
Joining the Pampers baby Club and the Mothercare Baby Bump Club for expectant mothers is free, and once you do you'll be entitled to a whole range of fantastic benefits. So sign up today on http://www.vjsm.com.mt/baby_club.aspx?id=198720. For further information on Sing and Sign sessions contact Andrea on 7965 6536 or andreawaltzing@singandsign.com or visit www.singandsign.com for online bookings.