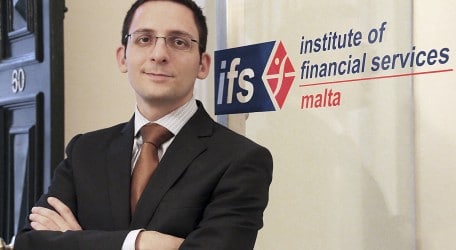 The Institute of Financial Services (ifs) Malta has appointed Mr Robert J. Sultana (pictured above) as its Director of Studies (DoS), with responsibilities for all educational and business development aspects of the Institute. His duties include management of the teaching team, establishing and maintaining appropriate academic procedures, quality assurances, observance of assessment and certification parameters, together with the development of training for the Institute in response to local market requirements.
ifs Malta President Simon Grech said: "Mr Sultana is conversant with the educational parameters and accreditation systems of Malta as well as those within the EU and UK. He continuously monitors developments within the financial services industry and interacts with key stakeholders. This makes him very knowledgeable of current and upcoming market training requirements. Appointing him to the post of Director of Studies was a natural step in his career progression and one which I have no doubt will serve the Institute well."
Commencing his financial services career with a well-established local insurance brokerage firm, Mr Sultana later moved to a post within the Insurance Unit of the Malta Financial Services Authority (MFSA). After that, he took the role of Business Development Manager at ifs Malta, where his main focus was on developing the Institute's financial training activities. Since joining ifs Malta, Mr Sultana has developed and introduced several new training initiatives and course programmes for the local financial services industry, spanning from funds to regulatory, investments and banking specialisations.
More information about ifs Malta is available on www.ifsmalta.org, by calling 2124 0335 or by emailing ifs Malta on [email protected]