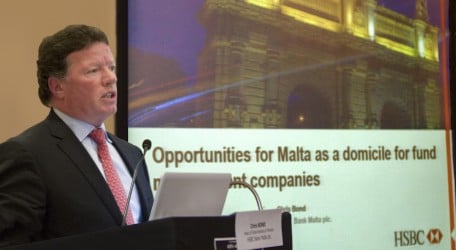 Malta was the leading country in attracting monetary financial institutions within the Eurozone throughout 2012, according to a recent statement by the European Central Bank. In contrast, the same statement reported that the number of monetary financial institutions in the Eurozone fell by 474 or 6.3% to 7,059 over the course of 2012.
Such performance statistics were among the many other topical issues discussed during the latest Malta Spring Fund Conference, organised by ESAFON – The European & Swiss Network of Asset and Fund Managers, Family Offices and Strategic Advisers, with support from HSBC Malta.
HSBC Malta's Chris Bond (pictured above) teamed up with Will Nicholas of Oceanwood Capital Management to highlight Malta's strong attraction as a location for fund management companies. "We are seeing exciting growth in Malta's fund management industry.  As the leading international bank in Malta, HSBC is able to offer local banking services, as well as global solutions from our major dealing centres, such as prime services from London," said Mr Bond.
More than 200 delegates from all over Europe attended the event which focused on the factors impacting the fund industry and the resultant implications for funds, managers, and service providers operating in Europe. Key issues included an overview of MFSA's vision for the fund and asset management industry, a review of recent EU regulatory developments, the implementation of risk based supervision, and key considerations to the set-up of private equity funds.