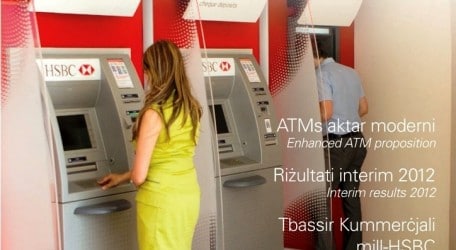 HSBC Bank Malta's fourth edition of l-azzjonist, the publication for shareholders, is available on HSBC Malta website at www.hsbc.com.mt, via the Investor Relations section.
Apart from covering the positive half-yearly results HSBC registered, as well as a statement on the Bank's performance in the 3rd quarter of 2012, the Bank's commitment to enhanced global connectivity is explained. These articles cover HSBC's Group international trade forecast, recent HSBC Group international summits, and insights in the Bank's approaches to support local businesses with new opportunities access international trade.
"The aim of this publication is to keep our shareholders abreast with the developments taking place in the world of HSBC, in particular inMalta. It is part of our on-going communication initiatives with our investors," said Franco Aloisio, Head of Communications of HSBC Malta.
Other articles explain the headway being made in HSBC Malta's ATM upgrade programme, and updates on recent Corporate Sustainability projects and initiatives organised by the HSBC Malta Foundation, including the promotion of gender equality in the work place and a detailed look at the five-year Water Programme launched by HSBC Group to deliver improved water provision, protection and education on a global level.