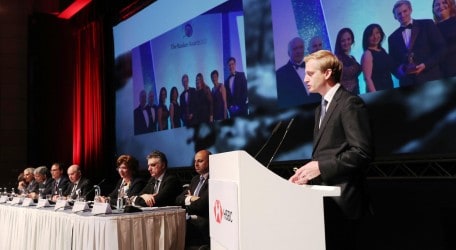 HSBC Bank Malta p.l.c. (the bank) held its Annual General Meeting on 12 April 2018 where all the Ordinary Resolutions on the agenda were approved in accordance with the bank's Memorandum and Articles of Association.
In terms of Article 7(1) of the bank's Memorandum, Mr Saviour sive Sonny Portelli (Chairman), Mr Andrew Beane, Mr Christopher Davies, Professor Andrew Muscat, Ms Tracy Garrad and Mr Yiannos Michaelides were appointed as Directors by the majority shareholder.
During the AGM, HSBC Bank Malta's Chief Executive Officer Mr Andrew Beane gave an overview of the results and performance of 2017 and explained to the shareholders the strategy that was approved by the Board of Directors in February to grow the business in Malta moving forward which is the bank's focus.
Further to the recent international media report which was also covered by the local media, Mr Andrew Beane stated clearly that the bank is operating on a business as usual basis. He reiterated that in line with the bank's latest communication to the market, the HSBC Bank Malta p.l.c.'s Board has no information that requires a company announcement to be made and that recent media coverage is speculation on which the bank's policy is not to comment.
Since only three persons were nominated for election, Mr John Bonello, Dr Gordon Cordina and Dr Mary Anne sive Sue Vella were automatically elected as directors by the minority shareholders in terms of Article 77(4) of the Bank's Articles of Association.
With the exception of Mr Andrew Beane, all the Directors are Non-Executive Directors.
Further to Company Announcement HSBC316 dated 21 February 2018, Ms Alison Hewitt will be replaced on the Board by Ms Tracy Garrad. Ms Garrad resides at Cote de la Rigondaine, La Rigondaine, Grouville, Jersey, Channel Islands.
Ms Garrad has over 17 years' experience in financial services having started her career at the European Bank for Reconstruction and Development in January 2000. Subsequently, she occupied various roles at Santander UK from February 2002 till June 2012. She joined HSBC Group in June 2012 and has occupied the role of Regional Head of Contact Centre Services, RBWM UK Europe and Middle East Region and the role of CEO of First Direct, HSBC UK. Since February 2017 Ms Garrad has occupied the role of CEO of HSBC Bank plc Channel Islands and Isle of Man. Ms Garrad's Executive education and development was undertaken at the London Business School and the University of Navarra IESE.
No matter concerning Ms Garrad requires disclosure under Listing Rules 5.20.5 to 5.20.9.
The appointment of Ms Garrad will be effective from the date of approval by the Regulator.