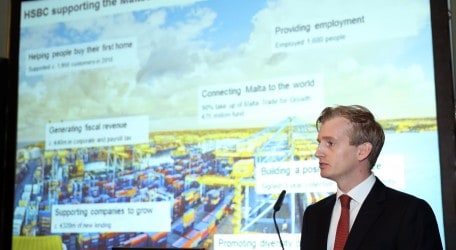 HSBC Bank Malta p.l.c. reported a profit before tax of €62.2m for the year ended 31 December 2016. This represents an increase of €15.4m or 33% on the previous year.
The reported profit before tax incorporates two 'non-recurring' items which are excluded from the adjusted results as it is considered internally as a better reflection of management's performance.
The first item relates to the gain on disposal of the bank's membership interest in Visa Europe. During the first half of 2016 Visa Inc. completed the acquisition of Visa Europe. As a result of this transaction, the bank received upfront cash consideration and preference shares. The total amount of income recognised in the reported results in relation to this transaction is €10.8m.
The second item represents a provision of €8m set aside in relation to a legacy operational and regulatory failure in the bank's now-closed brokerage business. This sum reflects the estimated cost of ensuring that customers affected by this specific issue are not disadvantaged in line with HSBC's commitment to the highest standards of conduct and fairness.
The Bank has self-identified and self-reported the issue to the regulator, Malta Financial Services Authority. This issue relates to 'execution only' trades dealt in by customers purchasing complex instruments without the Bank undertaking an appropriateness test required by MiFID. The bank will contact affected customers directly once final details of the resolution approach are agreed with the Malta Financial Services Authority at which point the final costs will be confirmed.