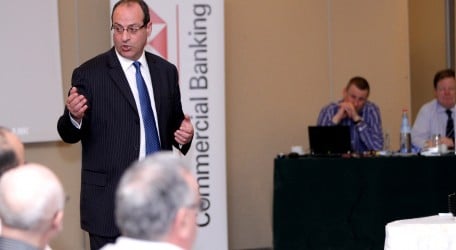 Pictured above: HSBC Malta managers  seen here with HSBC Malta's Michel Cordina
HSBC Europe experts in international trade finance recently delivered specialised training to HSBC Malta's Commercial Business Managers. The course, "Finance of International Trade", offers knowledge and expertise that builds further upon the bank's strong position as a facilitator of global trade, in line with its "Malta Trade for Growth" initiative.
"The course instructors, Iain Preston and Simon Howorth, delved deeply into the best solutions for international trade available today, ensuring that HSBC's customers benefit from the top solutions, and trade more successfully in different countries and territories around the world," said HSBC Malta head of Commercial Banking Michel Cordina.
Mr Preston has 25 years' experience in structuring trade and receivables finance transactions for HSBC customers. Mr Howorth has 31 years' banking experience within HSBC, 25 of which were within Commercial Banking, dealing with both importing and exporting clients, before moving to the Credit and Commercial Risk delivery team, within the Commercial Banking Academy for HSBC Europe.
"This training is a positive example of HSBC adding value in Malta by developing its people, who in turn add value and offer concrete support to Maltese companies," said Head of Trade & Receivable Finance, Malta Gaetano Sammut.
More information about HSBC Malta's commercial banking activities, products and services is available at www.hsbc.com.mt/commercialbanking