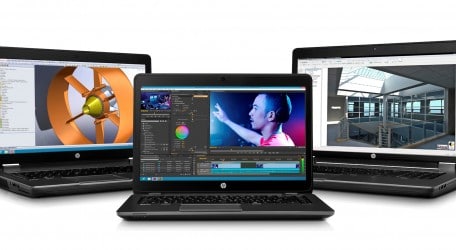 Company reinvents workstation lineup with new HP ZBook Mobile Workstations, HP Z Displays, enhanced HP Z Workstations and Thunderbolt technology
HP announced the expansion of its Z portfolio of professional workstation and display products, including the world's first workstation Ultrabook™ – the HP ZBook 14 – and the industry's first line of workstations to offer Intel's Thunderbolt technology for high-speed data transfer.
The new portfolio includes three new HP ZBook Mobile Workstations, processor and graphics enhancements to the award-winning line of HP Z Desktop Workstations, and two new HP Z Displays.
The first workstations to incorporate Thunderbolt, select HP Z Mobile and Desktop Workstations now can take advantage of high-speed data transmission between Z Workstations, displays and peripherals, providing the industry's fastest, most versatile I/O connection.
Ideal for professionals in engineering, CAD, architecture, design, animation, film, education, government and healthcare, the HP Z portfolio of products have been engineered, tested and certified for professional applications.
"Professional customers rely on trusted partners to provide technology solutions that are tested and certified for the mission-critical applications they run," said Kobi Elbaz, vice president, Commercial Personal Systems, Printing and Personal Systems Group, HP EMEA. "The HP Z subbrand has become a hallmark for professional products engineered to the highest standards—the expansion of the Z portfolio demonstrates HP's commitment to the professional market that many other vendors have abandoned."
HP reinvents the mobile workstation
With the introduction of the HP ZBook portfolio, HP has reinvented the mobile workstation and infused it with the HP Z DNA that customers around the world have come to recognize. The new HP Z Book Mobile Workstations now feature a new thinner and lighter industrial design. The HP ZBook family includes the world's first workstation Ultrabook—the HP ZBook 14—as well as the HP ZBook 15 and 17.
HP Z Workstations get a boost with IvyBridge and Thunderbolt
Adding to the already powerful line of HP Z Desktop Workstations, the HP Z420, Z620 and Z820 Workstations have been updated to include the latest Intel Xeon® E5-1600v2 and E5-2600v2 families of processors—also called Ivy Bridge—as well as new memory running 16 percent faster and 2nd generation Thunderbolt ports for creative work flows. The addition of Thunderbolt will accelerate creative projects with data transfer speeds up to four times faster than USB 3.0, easily connecting multiple devices with just one single, compact Thunderbolt port.
Adding to the company's line of professional displays, the new HP Z27i and Z30i IPS Displays are ideal for designers, content creators and knowledge workers across the enterprise who need outstanding image accuracy, exceptional adjustability and mission-critical reliability optimized for professionals.