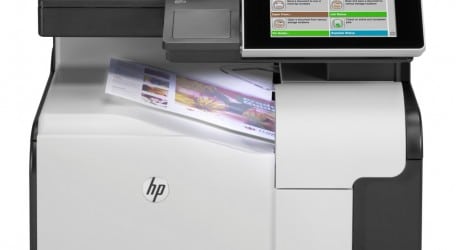 New solutions, including world's first mobile all-in-one printer, enable businesses to better capture, connect and communicate information
HP announced 15 new imaging and printing products, services and solutions with enhanced productivity tools, new security solutions and expanded mobility offerings to enable businesses of all sizes to capture, connect and communicate more securely and efficiently.
The new offerings include:
A new HP Officejet printer, four new HP LaserJet printers and an HP Scanjet providing SMEs and enterprise customers professional-quality documents and fast print speeds, along with the ability to extend the office beyond its physical location.
Ten new and enhanced workflow solutions, applications and security offerings to increase efficiency, improve business processes and help businesses control and secure information-management processes.
HP Digital Workflow Integration Services, an extension of HP Managed Print Services, which deliver powerful solution capabilities resulting in access to information by integrating back-end systems for real-time business-process optimization, and providing customers a single point of contact to manage the engagement.
"HP is overhauling our entire line of MFPs and today begins an onslaught of intelligent new web-enabled, cloud-enabled and solutions-enabled printing devices that meet the evolving business needs of our customers," said Ron Coughlin, senior vice president and general manager, LaserJet and Enterprise Solutions, HP.
Improve flexibility with new printing and scanning products
The HP Officejet 150 Mobile All-in-One is the world's first mobile all-in-one printer and an ideal companion for business professionals who need a compact, durable solution for printing, scanning and copying while on the go. It features built-in wireless Bluetooth® for printing from select notebooks and smartphones, and a long-lasting lithium-ion battery that provides enough power to print up to 500 pages on a full charge.
The HP LaserJet Pro 400 M401 is HP's new web-connected mono single-function laser printer, and the HP LaserJet Pro 400 MFP M425 is the company's first web-connected mono laser multifunction printer (MFP).
The high-quality colour HP LaserJet Enterprise 500 color MFP M575 and the black-and-white HP LaserJet Enterprise 500 MFP M525 feature a larger 8-inch, full-color touchscreen with HP Quick Sets for one-touch workflows. HP Quick Sets include send-to options directly on the control panel and allow users to preview, edit and zoom images for accurate results.
HP FutureSmart 2 firmware enables businesses to simplify software updates and centrally manage tasks across their entire fleet with HP Web Jetadmin. The MFPs also support HP ePrint, Apple AirPrint and Google CloudPrint.
HP printers are designed to work with Original HP supplies as a finely tuned print system that delivers high-quality text and true-to-life color documents with every page printed. Designed for optimal performance with minimal environmental impact, Original HP supplies offer superior reliability, which reduces the need to reprint, and many cartridges are made from recycled plastic.
The HP Scanjet Enterprise 7000 s2 has a compact desktop design with HP Precision Feed and AccuPage technologies to offer flawless and efficient performance, while the ability to "Scan to Sharepoint" and "Scan to Cloud" extends its capabilities beyond the desktop.
Manage information with HP Workflow Solutions
New mobile printing solutions include HP ePrint Software, which enables PC printing to HP ePrinters at home or at work, and to HP ePrint Public Print Locations (PPL) when workers are on the go. The new HP Printer Control app enables users to manage device settings and supplies, and print, copy and scan wirelessly to the new HP ePrint-enabled printers.
HP ePrint App for Apple and BlackBerry® enhances and replaces the popular HP ePrint Home & Biz App to enable users to more easily print from a smartphone or tablet, and receive intelligent recommendations on where to send prints. The Universal Email Address for HP ePrint PPLs allow HP's large PPL network to publish and promote a single email address for mobile print jobs. Any end user connected to the internet with an email-capable device can send a print job to the email address and retrieve the print job at any of the PPLs.
To ease manageability of the printing infrastructure, HP Jetdirect 2700w USB Wireless Print Server provides high-speed wireless printing plus advanced enterprise-class security, enabling customers to place printers wherever needed, without wires, while HP Web Jetadmin 10.3 provides enhanced performance, improved workflow management and additional device support for more control and ease of use. This fleet-management application is available at no additional cost.
Improve peace of mind with HP Security Solutions
Printing security is simplified with HP Imaging and Printing Security Center, an industry first in security management that provides policy-based security for HP printing fleets, and now includes broader HP enterprise device support, enhanced fleet risk reporting, improved usability and HP Instant-On Security, which helps secure devices as soon as they are added to the network. The solution is now available for purchase through HP Managed Enterprise Solutions and HP Partner Document Solutions Specialists.
Pricing and availability
The HP Officejet 150 Mobile All-in-One has recommended end user price is €405. Available in July 2012.
The HP LaserJet Pro 400  M401a, M401d, M401dn and M401dw have recommended end user price of €268,€320, €372, and €424 respectively. Available in May 2012
The HP LaserJet Pro 400 MFP M425dn and M425dw have recommended end user price of  €517 and €548, respectively.  Available in May 2012
The HP LaserJet Enterprise 500 MFP M525dn and 500 MFP M525f have recommended end user price of  €2,030 and €2360. Available in June 2012.
The HP LaserJet Enterprise 500 color MFP M575dn has recommended end user price of €2,511. The HP LaserJet Enterprise 500 color MFP M575f has recommended end user price of €2,813. Available in June 2012.
The HP Scanjet Enterprise 7000 s2 has recommended end user price of €1,115. Available in April 2012.
HP solutions and services pricing and availability varies by company size and region.