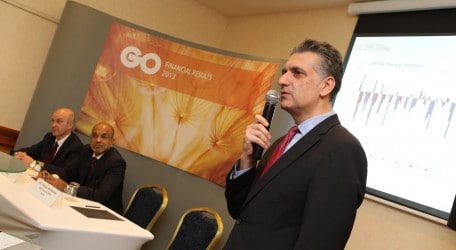 GO plc today announced profits before tax of €15.6 million and cash generation from operations of €39.6 million for 2013.  The Company is proposing a dividend of €0.07 net of tax.
Addressing stockbrokers following the announcement of the results, GO plc Chairman Deepak Padmanabhan said, "2013 was another positive year for GO, despite the competitive and regulatory pressures which continued to erode revenues.  In fact usage across most of our services; phone, mobile, web and TV, continued to grow and the Company also increased its customer base by 1 per cent to more than 500,000 customer connections.  The ever increasing number of customers adopting bundles of services is a vote of confidence in the Group's product portfolio and drives GO to continue to pursue a strategy aimed at delivering tangible value to its customers.  This strategy helps to deliver robust levels of revenues, profitability and cash generation from core operations.  As a result of these encouraging results and healthy balance sheet, the Board of Directors is recommending that during the forthcoming Annual General Meeting, shareholders approve the payment of net dividend of €0.07 per share. "
This positive result was achieved despite a slight drop of 4.0% in Group revenue to €122.1 million. This was caused by a combination of price erosion due to the competitive nature of the market and lower revenues from wholesale, including roaming, as regulators continue to mandate significant reductions in inter-operator tariffs particularly for terminating calls on mobile networks.
GO's resilient performance was underpinned by a 3.5% reduction in cost of sales, administrative and related costs, which in 2013 stood at €102.4 million (2012: €106.1 million). This was a result of the focus on managing costs in general, including employee related costs and certain costs linked directly to sales activity.
In 2013 GO is reporting an operating profit of €18.0 million, as against €22.4 million in the comparative year.  Normalised operating profit is €20.8 million (2012: €22.2 million) whilst normalised EBITDA amounted to €48.4 million (2012: €51.3 million).  GO's profit before tax of €15.6 million is at levels similar to the prior year when one takes into account a one-off gain of €11.4 million which had been registered in 2012 following the disposal of a plot of land at Qawra.  In 2012, the Company had recorded profits before tax of €26.8 million.  The earnings per share amounted to €0.116 as against €0.173 in 2012.
Net cash generated from operations amounted to €39.6 million (2012: €40.0 million). Both years include items considered to be of unusual nature, size or incidence relating to pensions and voluntary retirement costs. Normalised cash flow from operations for 2013 amounted to €42.7, an increase of €1.2 million over the €41.5 million generated in 2012. In 2013 the Group's investments implied a cash outflow of €19.3 million as the Group maintained an intensive investment programme through which it is upgrading its various networks and launching new technologies which allow for the provision of improved services and innovative products.
Yiannos Michaelides, CEO at GO, said, "Thanks to a great effort by all our employees GO has once again delivered a strong set of results, despite the challenges facing our industry.  Our focus on investing in people and technology to be able to deliver market leading products and excellent customer service is delivering the right results. The usage of all our services and the levels of customer satisfaction have continued on an upward trend. This coupled with our ongoing efforts to manage costs, augurs well for the future."