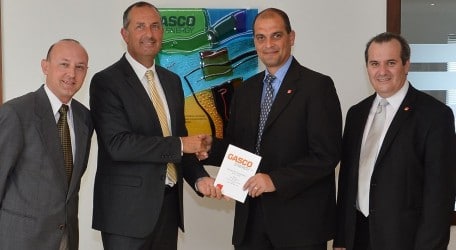 Pictured above:  Paul Agius Delicata, CEO of Gasco Energy (second left), Stephen Muscat, Chief Financial Officer (first left) with GWU Chemical and Energy Section Secretary Jason Deguara (second right) and GWU Deputy Secretary General Josef Bugeja (right)
Gasco Energy Ltd, the leading operator responsible for storage and bottling of Liquified Petroleum Gas (LPG) in Malta, and the General Workers Union's Chemical and Energy Section signed their first collective agreement for Gasco Energy employees for the three year period of 2014-2017.
The collective agreement covers new work practices and will provide Gasco Energy's employees with better salaries along the stipulated period.
GWU Section Secretary Jason Deguara said: "This Collective Agreement was dealt in a very cordial manner and even though it was the first one being negotiated with the company, it took us a relatively short time to agree and successfully conclude the discussions. I would like to thank the Management and my Union Representatives for all the collective effort in reaching this agreement. I also wish to thank the GWU Administration for their backing."
Gasco Energy's CEO Paul Agius Delicata said: "The fact that we managed to successfully reach an agreement for three years with the employees' representatives and the GWU augurs well for everyone concerned. This agreement includes the introduction of new work systems that allow for further efficiencies in the way we operate and agreed salary increases over the coming three year period."
Agius Delicata thanked GWU Section Secretary Jason Deguara, GWU Shop Steward Lucian Pace, and GWU Assistant Shop Steward David Farrugia for bringing these collective discussions to a successful conclusion. The signing of the collective agreement was witnessed by Gasco Energy's Chief Financial Officer Stephen Muscat, and GWU Deputy Secretary General Josef Bugeja.