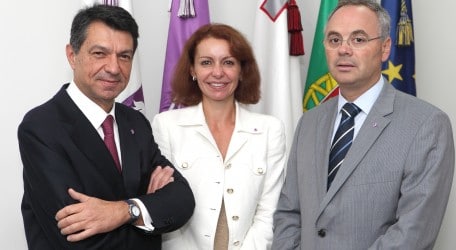 Banif Bank (Malta) plc has announced three new members on its Board of Directors. These are Teresa Roque dal Fabbro, Jorge Tomé and Gonçalo Botelho (pictured above).
Dra Teresa Roque dal Fabbro is the daughter of late Comendador Horácio da Silva Roque, founder of Banif Group. She was appointed Vice President of the Administrative Council of Banif, SA in April last year. Dra Roque dal Fabbro also sits on the Board of a number of companies within the Group.
Previously a Member of the Board of Directors of Caixa Geral de Depósitos in Lisbon, the largest Bank in Portugal, Jorge Tomé is Chief Executive Officer of Banif, SA and a Member of its Board of Directors while Gonçalo Botelho is a Member of the Board of Directors of Banif, SA and is responsible for the international business of the Banif Financial Group.
Banif Bank (Malta) plc considers the appointment of these high profile Board Members as a clear sign of confidence in the Bank by the Banif Financial Group. The new Directors bring with them a wealth of experience and will add more value to Banif Bank in its endeavour to continue strengthening its position as one of the leading financial institutions in Malta.
Now in its fifth year of operations, Banif is growing its retail network. To date Banif Bank has nine branches, a Corporate & Business Banking Unit, a private banking arm and a local trading room supported by internet banking and an ATM platform. Banif Bank (Malta) plc was named Best Banking Group – Malta by World Finance for two consecutive years, in 2010 and 2011.