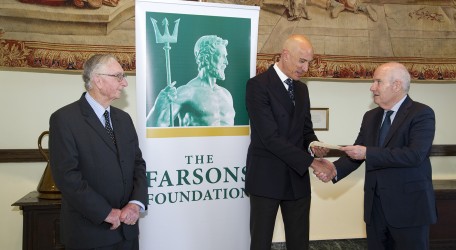 The Farsons Foundation and Simonds Farsons Cisk plc have teamed up to support Fondazzjoni Patrimonju Malti (FPM), a non-profit making foundation with the aim of spreading awareness of the Maltese Islands' extensive cultural heritage, through exhibitions, museums and publications. The three-year sponsorship will fund various projects by the FPM in the study and preservation of Maltese heritage.
During a presentation ceremony held at the Old Boardroom of the Farsons Brewery in Mriehel, itself a splendid example of Maltese industrial heritage, Mr Bryan Gera, Chairman of the Farsons Foundation, said: "One of The Farsons Foundation's objectives is the conservation and celebration of our local heritage and the need to recognise its contribution to the economic and social development of the Maltese Islands. This collaboration with Fondazzjoni Patrimonju Malti falls perfectly within this aim to further stimulate appreciation of Malta's heritage."
FPM was set up in January 1992 by a small group of individuals who were passionate about the islands' cultural heritage, and concerned about its welfare. Early on in the Foundation's life it was decided that its aim would be best reached through the organisation of exhibitions of notable interest, with objets d'art from private collections that have never been previously viewed publicly. This is where FPM's forte lies, in its ability to bring together these hidden treasures, staging them professionally in sumptuous surroundings, and making them accessible to the viewing public. FPM has earned an enviable reputation for the spectacular exhibitions it has organised.
"Over the years we have provided our support to a number of initiatives and organizations which celebrate Maltese heritage and we are pleased to be further extending this commitment by joining forces with Fondazzjoni Patrimonju Malti," said Mr Louis A. Farrugia, Chairman of the Farsons Group.
FPM's CEO, Mr. Michael Lowell said, "On behalf of our Chairman and Board of Governors I would like to thank the Farsons Foundation and Simonds Farsons Cisk plc for their generous commitment and support. Patrimonju's work programme continues to grow and this valuable contribution will enable us to deploy resources towards our longer-term projects. Through your generous support we are able to carry out our objectives to the highest standards whilst preserving and promoting Malta's cultural heritage."
In 2014 an agreement was ratified with the University of Malta to support a number of grants, the institution of prizes and the exchange of technical assistance. The process leading to this collaboration included a one-day conference the previous year which focused on the diverse approaches in the preservation and presentation of industrial heritage in Malta, and the publication of the conference proceedings in a book entitled Approaches to Industrial Heritage: What works?.
Later that year, Farsons Foundation, together with Simonds Farsons Cisk plc, and following a collaboration lasting several years, agreed to formalize their partnership with Heritage Malta for the collective benefit of Malta's cultural and industrial heritage, by cooperating and working closely in the set-up process and ongoing operation of the proposed Farsons Visitors' Centre.