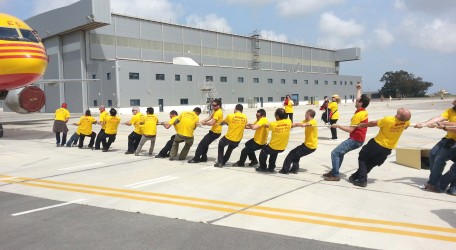 Following the success of the first edition of Plane Pull Malta, DHL Express has once again teamed up with the Phoenix Sports Club to organise the second edition, under the patronage of the President of the Republic, Marie-Louise Coleiro Preca, to raise funds for l-Istrina.
Plane Pull Malta is being held on Thursday, 19 March, 2015 (a public holiday), from 10.30 a.m. to 3 p.m. at Safi Aviation Park (Gate 8). All one needs to do to take part in Plane Pull Malta – whether individually or as a group/team – is to download the form from the Facebook page Plane Pull Malta, fill it in and bring it along on the day.
So whether you want to come on your own or as a group of friends or work colleagues, you face the challenge of having to pull a DHL Express Boeing 757-200 Freighter aircraft, which weighs around 60 tons, a distance of 20 metres.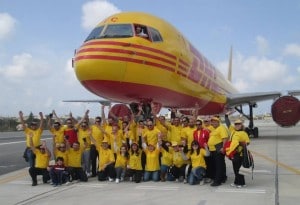 Commenting on the feat, Charles Schiavone, Manager of DHL Express Malta, explained: "Building on the experience gained last year, we want to ensure as many people as possible get the opportunity to pull the plane and make a donation to charity. At the same time, it is our responsibility to ensure maximum safety throughout. So, the plane's engines will be on and there will be an engineer in the pilot's seat, since he will need to apply the brakes. In addition, there will be another engineer on the ground to give the pilot directions."
Once one team of people have successfully pulled the aircraft, another team will be invited to pull the plane for 20 metres. Mr Schiavone said that, after six teams pulled the aircraft a total of 120 metres last year, the target is for even more to do so this year to enable the figure of €1,500 collected to be surpassed this year.
DHL Express has been operating in Malta since 1983. It currently employs over 50 full and part time staff, servicing a comprehensive list of local and international clients, and operates from a dedicated logistics centre at Malta International Airport.
DHL, which is part of Deutsche Post DHL, has a global network composed of more than 220 countries and territories and about 315,000 employees worldwide, offering customers superior service quality and local knowledge to satisfy their supply chain requirements.
The Phoenix Sports Club, set up in 2010, currently offers athletes an opportunity to practise a number of sports disciplines, including handball, basketball, volleyball, floorball and table tennis. It caters for children as young as 8 years of age up to those in their late 30s.