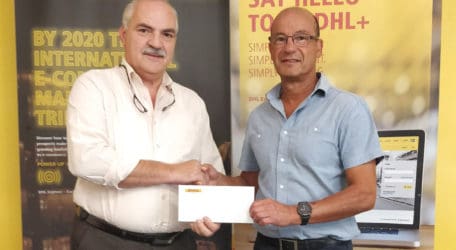 The DHL Express Plane Pull Malta 4 edition raised €3,500 for the Puttinu Cares Foundation, bringing the total amount raised for charity in the first four editions to €10,500.
Charles Schiavone, Country Manager of DHL Express Malta, handed over the cheque for the amount raised in this year's edition to Dr Victor Calvagna, Chairman of Puttinu Cares, on October 15, 2018, at the DHL Express Malta offices in Luqa.
Each edition of this unique Plane Pull Malta challenge has raised more funds of needy causes than the previous edition: €1,500 in 2014, and €2,500 in 2015, which went to the Malta Community Chest Fund; and €3,000 in 2016 and €3,500 this year for Puttinu Cares.
Nine teams – around 150 people – pulled the DHL Express Boeing 757, weighing 60 tons, for a distance of 20 metres in the fastest possible time on 21 September 2018 at the Safi Aviation Park. There were two teams from the Malta Police Force, a rugby team, a local gym team and numerous individual challengers, including from private companies. This year, the fastest time recorded was 20.47 seconds, achieved by one of the Police teams.
Both DHL Express Malta and Puttinu Cares thanked all those who took part in the DHL Express Plane Pull Malta 4 challenge, contributing to the good work of Puttinu Cares in Malta and the UK.
Charles Schiavone, Country Manager of DHL Express Malta, also thanked all the volunteers who contributed to the success of this year's fund-raising event, including those from Puttinu Cares, DHL Express staff, Aviaserve, Aeroservices, AME Health and Safety Services Limited, the St John Rescue Corps, Malta Industrial Parks and the Armed Forces of Malta.
"My sincere thanks to the team who worked on this fourth edition and made of this event a success," Dr Calvagna said. He explained that the money would go to Puttinu Cares' ongoing projects in England for families with children suffering from cancer.