Hospice Malta recently held its 33rd Annual General Meeting which was held at the Palace of the President of Malta.
During the meeting, Hospice Malta Chairperson, Ms. Bernadette Bonnici Kind, gave an update about St Michael Hospice where works are currently ongoing. She mentioned the recent Hospice Fundraising Telethon, the funds raised will go towards the completion of the new palliative care facility. She acknowledged and thanked all those who were involved in this event and all who generously contributed towards its success.
She continued by thanking the government for their continued support as well as various entities in particular the Ministry for Health, the Ministry for Family Affairs, the National Development Social Fund (NDSF) office, the Planning and Priorities Coordination Division (PPCD). Furthermore, she also acknowledged and thanked the various business organisations and Banks for their unwavering support throughout the years.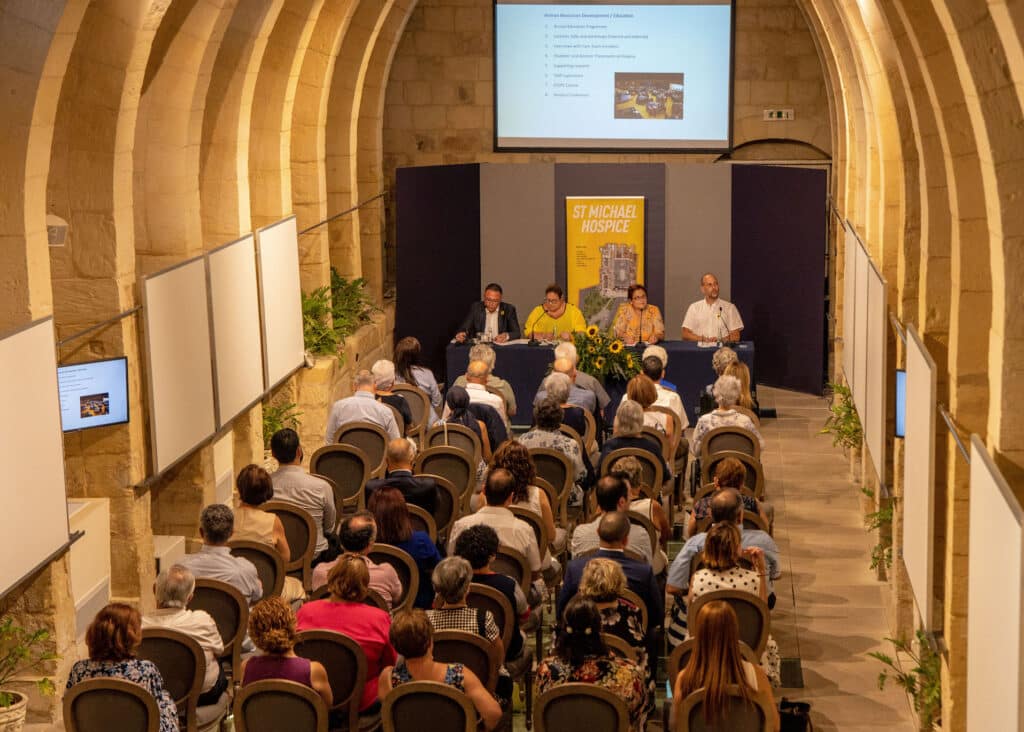 Ms Bonnici Kind applauded the Board of Governors, staff members and all volunteers, whose team effort allows Hospice Malta to cater for the increasing number of patients and families who require palliative care services. She also thanked Mrs. Miriam Vella, the President's wife and Patron of Hospice, for hosting the Hospice Malta AGM at San Anton Palace.
In her concluding remarks, Ms. Bonnici Kind, also announced the launch of the Hospice Honorary Membership programme, whereby the Board nominated various members including Founder members and ex chairpersons, honouring them for their sterling work and contribution to Hospice throughout the years.
In his annual report, Mr. Kenneth Delia, CEO of Hospice Malta, gave an in-depth overview of how Hospice has adjusted to new working practices, its investment in IT for patient contact as well as for contact between Hospice professionals, its continued efforts to ensure efficiency, effectiveness and accessibility, the development & training provided to its team of professionals and care workers and the ongoing and increased use of social media as a means of engagement with both patients and the general public.
Mr. Delia gave a summary of the operations and highlighted the growing number of patients that added up to 1,308 patients in 2021, benefitting from around 37,000 sessions through home visits as well as virtual means when the latter were not possible due to the pandemic, an increase of 5% in home visits and an increase of 23% in patient online assessments. A significant increase was also noted in the number of hours provided through the Hospice dedicated professional care assistants' service, which nearly doubled in the number of hours from the previous year resulting in over 17,000 hours of care assistant services at the patients' home. Free of charge equipment loans from Hospice amounted to 1678 items throughout the year, helping patients to remain as comfortable and independent as possible in their own home.
Mr Delia emphasized the importance that Hospice places on the quality of the service provision. "Service quality remains one of the most important measures for Hospice. It is with great pleasure that I am able to report that all patients are contacted within 24 hours of their referral, and 89% of our patients receive a home visit by our professionals within 5 working days."
Mr. Vladimiro Comodini, Hon. Treasurer, presented the audited financial statements for the year 2021. He appealed to the general public that one can donate and continue to support Hospice by visiting www.hospicemalta.org.
For more information and to view the detailed Financial Statements Report, visit hospicemalta.org