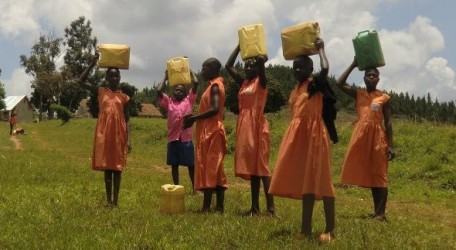 World Water day is celebrated each year on 22 March, as a means of focusing attention on the importance of water and advocating for the sustainable management of water resources globally. This day draws attention to the 884 million people around the world without access to clean water and the 2.6 billion people living without access to basic sanitation facilities.
To commemorate World Water Day, SOS Malta has teamed up with the MRRA Catch the Drop Campaign to raise awareness of water issues in both Malta and in the developing world.
SOS Malta and MRRA are inviting schools in Malta to take part in a celebration of World Water Day on the morning of 22 March  in Sliema. At 9am, Students will walk from St Joseph's School to Bizazza Street, Sliema carrying jerry cans, banners and messages regarding water. Many girls in the developing world are unable to go to school as a result of needing to collect water daily for their families' basic needs. This walk will symbolise an act of solidarity by young people in Malta with their counterparts in the developing world, recognising that water is an issue for all of us and we all must take action for the sustainable management of the worlds precious water resources.
SOS Malta and MRRA are organising this symbolic walk as part of 'The World Walks for Water and Sanitation' a global event demanding action to address the global water and sanitation crisis. By acting together, in our thousands, all over the world, we can make a difference.
This walk will be followed by a number of different activities aimed at raising awareness of the importance of water conservation, management and access in Malta and the developing world.
SOS Malta will also launch its annual water campaign "Malta Walks for Water" and invites all those interested in putting an end to water poverty to support us at www.maltawalksforwater.org. Funds raised through the campaign will help provide sustainable clean water to schools and rural villages in Uganda through the implementation of rainwater harvesting systems and the construction of wells and boreholes by SOS Malta. This work is also supported by Vascas Jewellers, Orienta and Fortina Spa Resort, Professional Marketing Services and Cleland and Souchet.