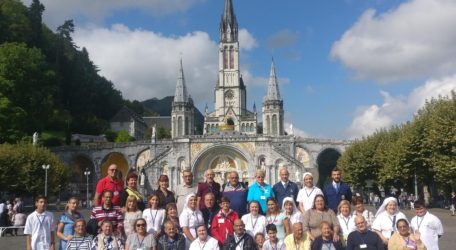 Fifteen renal patients have been financially assisted by LifeCycle (Malta) Foundation to go on a pilgrimage to Lourdes. They joined a group organised by Assocjazzjoni Volontarji Lourdes (AVL), consisting of over 160 other persons including other patients, relatives, doctors, nurses, carers, and helpers including 14 youths. This spiritual journey was led by Archbishop Emeritus Monsignor Pawlu Cremona.
While in Lourdes, the patients took part in all religious funcations including the adoration of the Holy Eucharist, the International Mass, and the aux flambeaux evening procession. Other celebrations were also organised in the Maltese language.
Alan Curry, founder of LifeCycle (Malta) Foundation said: "On behalf of all renal patients, LifeCyle Foundation would like to thank AVL as well as the nursing and caring team at Renal Unit, AirMalta and Malta International Airport (MIA) for their kind support, especially towards renal patients, who have to carry with them special life-saving dialysis equipment to assist them in their condition even when they are away from Malta."
AVL Chairperson Ms Louise Cini thanked LifeCycle for their ongoing support year after year. "Every year, AVL receives much needed support both at departure and arrival in Malta, as well as during the flights. AirMalta and MIA staff ensure that all of us receive the much-needed logistical support during such pilgrimages."
Through its Foster Clark LifeCycle Challenge 2018 to be held between 28th September and 12th October 2018, LifeCycle Foundation is aiming to raise the substantial sum of €150,000 to sustain both its current and new projects for 2018-2019. In those 10 days, LifeCyclists will be cycling 2,000 km from Dubai to Salalah, in Southern Oman in blistering heat – all to raise much needed money for renal patients.
Apart from life-saving dialysis equipment and improved facilities, LifeCycle is  sponsoring the Twilight Shift Van to transport patients to and from Mater Dei Hospital for their evening dialysis, as well as the software matching programme called "Traccia" which determines the best recipient for a kidney donation.
In addition, LifeCycle Foundation has donated €120,000 for kidney disease research at University of Malta through the University's Research Trust (RIDT) since 2014, with the last two donations amounting to a total of €50,000 were donated by Foster Clark in 2017 and 2018 respectively.
One can donate via sms: 5061 7370 = €2.33; 5061 8920 = €6.99; 5061 9229 = €11.65; or via a call to 5160 2020 = €10, 5170 2005 = €15; and 5180 2006 = €25. Bank details are Swift code VALLMTMT, IBAN number MT 18 VALL 22013000000014814521017, Bank name Bank of Valletta, Account number 14814521017.
For more information about LifeCycle Foundation and Foster Clark LifeCycle Challenge 2018, please visit www.lifecyclechallenge.com