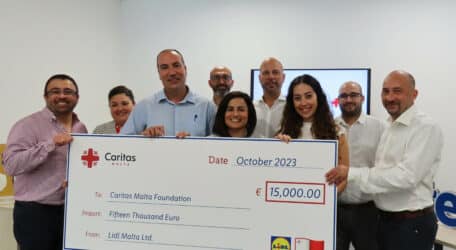 In celebration of its 15th anniversary, Lidl Malta, the leading retail chain on the Maltese islands, has donated the sum of €15,000 to Caritas Malta Foundation, an organisation known for its mission to reduce poverty, loneliness and human suffering by promoting equal opportunities and social justice. This donation is part of the company's various Corporate Social Responsibility initiatives to mark this milestone.
The donation was presented to Caritas Malta on the 31st of October 2023 at Lidl Malta's new Head Office in Burmarrad. This occasion also served to commemorate Caritas Malta's 55th anniversary and to express appreciation for their invaluable service and commitment to the community throughout all these years, making the ceremony double significant.
This philanthropic gesture is a testament to Lidl Malta's unwavering dedication to helping and empowering those in need. The company recognizes that reaching such a significant milestone would not have been possible without the support of its community, clients, and employees. Hence, this donation is a way of expressing gratitude and making a meaningful contribution to a cause that aligns with the company's values.
"In celebrating our 15 years of growth and success, we are honoured to extend our heartfelt appreciation to the Caritas Malta Foundation for 55 years of dedicated service to the community. The donation presented is not just a symbol of our commitment to corporate social responsibility, but also a testament to the enduring partnership between our organisations. Together, we look forward to continuing our mission of making a positive impact on our society for many more years to come," said Marc Psaila Soler, Human Resources Manager at Lidl Malta.
Lidl Malta, with 10 stores on the Maltese islands, strives to be an active part of the society around it. With this in mind, the company, year after year, develops a broad year-long proposal to work hand-in-hand with various charities and non-profit organisations.